10 Key Apps For Startups (2021)
August 2, 2021
• 0 Comment
We follow a strict honesty policy. However, to fund our work, we use affiliate advertising links on this blog.
If you're thinking of starting a business, or improving an existing one, you're going to need the right tools for the job! So, in this post I share 10 types of apps for startups that can make your workflow much more efficient and lead to an increase in business growth.
---
1. A productivity suite
Before you can do anything exciting with your startup, you're going to need some apps that can take care of the boring (but very important) things: a reliable email account, cloud storage and productivity tools.
The industry leading productivity suites which provide all the above are Microsoft 365 and Google Workspace (formerly G Suite).
However, it can be quite hard to choose between them — there a lot of pros and cons to weigh up regarding the quality of their services.
So, you might like to read our Microsoft 365 vs Google Workspace comparison review. This explains the core differences between these two productivity suites, as well as outlining what alternatives are available.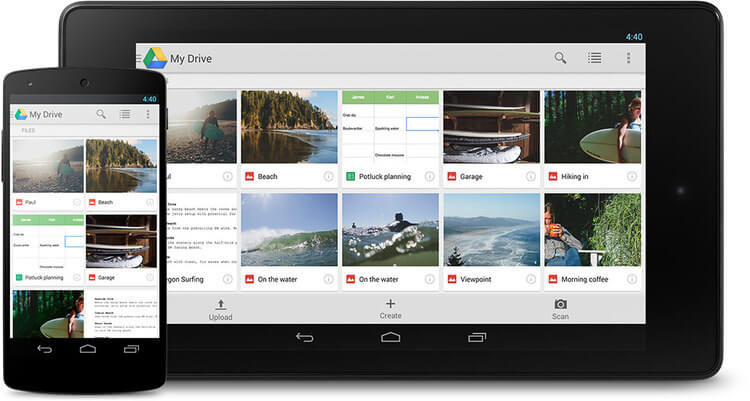 ---
2. A website or online store
It goes without saying that you'll need a website for your business.
But with many website building platforms available, it's important to make the right decision regarding which one to go for.
Portfolio sites / brochure sites
If you're not intending to sell services or goods online — i.e., your website is more of a portfolio or 'brochure' site with business ultimately taking place offline — then Squarespace is often a good bet for startups, because it's easy to set up a site with it, the templates are attractive, and you get support included with your plan.
WordPress is another great option for portfolios or brochure sites — and one that will give you more control over the aesthetics and functionality of your site — but there is a bit more of a learning curve involved, and you might be best off hiring a developer to help you with the build.
Check out our Squarespace review or our Squarespace vs WordPress comparison to find out which is the right option for you.
Online stores
If you're selling products and services online, more thought is required. Although it's tempting to just embed a Paypal button on a web page to handle online transactions, there are many more sophisticated options available to you which will serve you better.
Ultimately, if you're serious about e-commerce, you're going to need a platform you can use to to build a fully functional store: one that can adequately cater for things like product variants, shipping, tax rates and abandoned carts. Big hitters in this area include BigCommerce and Shopify.
If you've already got a website, and want to turn it into an online store, you might find that Ecwid is a good solution for you (it's a 'widget' that's designed to add e-commerce functionality to any existing site). Check out our Ecwid review here.
Tip: when it comes to the aesthetics of your website or online store, you might find that simple web-based design tools like Crello offer a cost-effective way to tackle graphic design for it. Another tool you could consider using for branding is Looka's AI-based logo maker.
---
3. An email marketing tool
A large, high-quality mailing list is vital to the growth and long-term success of any business. 
Not only can email marketing provide a fantastic return on investment, it's a great way to share content widely (something which can build great brand awareness and even improve SEO).
Many new business owners think that a mailing list is simply a bunch of email addresses stored in an Excel spreadsheet that get emailed via Outlook from time to time.
Taking this approach is a big mistake. Dedicated email marketing tools allow you to capture email addresses via your website, host a large mailing list online, create newsletters, automate communications and track results easily.
There are many fantastic email marketing apps available — but based on value for money and reliability (respectively), our favourite is probably Getresponse, because of the way it integrates webinars and e-commerce features with email marketing.
For more information about your other options in this area, you can check out our email marketing tool comparisons here.
Download our free Business Growth E-Kit
For a limited time, we're offering our readers some excellent free tools to help them grow their business. Sign up free to immediately receive:
downloadable cheatsheets on how to grow an online business
an exclusive discount code for email marketing app Getresponse
extended free trials of essential growth-hacking apps
ongoing free tips and advice on digital marketing
We respect your privacy, and you can unsubscribe any time. View privacy notice.
---
4. CRM
CRM stands for 'customer relationship management', and these days the acronym is usually used to refer to cloud-based software that allows you to keep track of and manage the business relationships between your organisation and your leads and clients.
Typically, a CRM app will allow you to
capture, organise and analyse leads

track communication with leads and clients

allocate tasks to your team

manage your 'sales pipeline' (i.e., identify leads and track how the process of converting them to a client is going)

manage customer enquiries via a support ticketing system
Now, as with email marketing, many new business owners rely on Excel to handle all this sort of stuff — which, as with mailing list management, is a bad move when there are so many more sophisticated options available to you.
Hubspot offers a very functional free version of its CRM tool — this is a good introduction to the world of customer relationship management.
Other cost-effective options involve Capsule or Nimble.
Which product is right for you will really depend on the nature and complexity of your business, but either way, finding the right CRM tool will usually be vital to ensuring that it grows successfully.
(Check out our Capsule CRM review and our Nimble CRM review for more information on two of the CRM options mentioned above).
---
5. Growth hacking tools
Once you've got your website live and your email marketing app sorted, the next thing you'll need to do is grow the number of people visiting your site and joining your mailing list.
Now, there are many tools to help you do this.
For example, you'll find apps that let you run A/B tests on your site pages to find out which is most likely to convert a visitor to a subscriber; tools that let you create video recordings of your visitors' behaviour on your site and analyse it; and 'welcome mats' which encourage mailing list subscription before any other action is taken on your site.
You'll find an exhaustive list of growth-hacking apps over on Neil Patel's website, but for me, there are two particular aspects of growth hacking to zoom in on and prioritise when starting a new business: social sharing, and lead generation. You basically want to make it as easy as possible for somebody to share your content or subscribe to receive more of it.
Tools like Sumo can really help you here, providing everything from sharing buttons to live chat to data capture 'welcome mats.'
Other similar services worth investigating include Addthis and Sharethis. 
---
6. Cloud based accounting
Cloud-based accounting apps are increasingly popular — mainly because they are SO much better for managing your finances than Excel…
You simply connect your accounting app to your bank account, and all your transactions are imported into your accounting software in real time (i.e., no more copying and pasting transactions from your online bank account into a spreadsheet).
Not only that, but cloud accounting apps allow you to raise branded invoices and produce detailed reports at the click of a button. They can give you access to in-depth analysis of your company finances, and make preparing a tax return significantly easier.
(Because of these advantages, if you use a bookkeeper, it often makes sense to hire one that works 'in the cloud'.)
Industry leading cloud-based accounting apps include Xero and Quickbooks.
---
7. Keyword research tools
It's all very well having a business and a website to go with it — but if you're not ranking highly in search results, it's not going to be a success.
One of the best ways to improve the performance of your website is to make sure that you are publishing content that people are actually searching for. To do this, you'll need to perform keyword research.
Tools like Ahrefs and SEMrush are essential for this kind of work.
For more information on keyword research tools, check out our
Note: for a limited time, Semrush are making a 14-day trial available (it's normally 7) — you can avail of this trial here.
---
8. Project management tools
If you're serious about getting anything done — and particularly if you're working with multiple stakeholders — you're going to need a project management tool.
Possibly the simplest of the bunch — and one that you can use for free — is Trello.
This lets you organize your projects using a 'card' based to-do list system that is easy to understand. You can invite people from both within your own organization and outside it to projects.
You can learn more about Trello here.
---
9. GDPR compliance tools
With the introduction of GDPR — data protection laws designed to safeguard the privacy rights of EU citizens — business owners now have to meet strict requirements with regard to how they capture data and use cookies.
Adhering to GDPR laws on data capture is reasonably straightforward, but it's quite hard to adhere to the cookie laws. Your website needs to display a cookie banner which not only informs your visitors that cookies are being used, but also allows them to give prior consent to them being run.
This is quite a challenge from a technical point of view, but there's a new tool called CookieYes which we've discovered and which we recommend to our clients as a way of ensuring compliance (particularly where hosted website building products like Squarespace, Shopify and BigCommerce are concerned).
You can find out more about CookieYes here.
---
10. A social media manager
Most businesses end up struggling to manage several social media profiles at once — it's hard to stay on top of posting content religiously to Facebook, Twitter, Instagram, Pinterest and so on. It can be tricky to keep on top of them all or analyse what's working and what's not across all your channels.
This is where an all-in-one social media management tool like Hootsuite is invaluable. You can use tools like Hootsuite to manage all your social media accounts in one place; schedule messages across your profiles; measure your social media campaign performance and assign tasks to your team messages to ensure that all messages generated by your social media activity get answered.
All this improves your social media comms, or frees up time to do other important stuff!
Alternatives to Hootsuite include Sendible and Buffer.
---
Now – over to you!
We hope you've enjoyed this article about apps for startups! Do feel free to add your thoughts on it using the comments section below.