9 of the Most User-Friendly Online Chatbots
September 7, 2021
• 0 Comment
Your brand's image in the minds of your customers is based on the sort of customer service that you provide them.
So what does this mean?
If you're not able to give them satisfactory service, it can spoil the customer's experience and harm your brand's value.
An unsatisfied client may never return to your brand or buy your products again. And that's why it's crucial to maintain your customer service standards. This is where online chatbots come in.
As brands strive to improve their customer service, more online chatbots are being integrated into their operations. In fact, it's predicted that innovative chatbots and AI will handle nearly 15% of all global interactions this year.
The online chatbot market is expected to be worth $1.25 billion by 2025 due to its high growth rate. You too can join this revolution and change the face of your customer service with the use of chatbot technology.
Disclosure: This content has a few affiliate links, which means if you click on them, I will get a commission (without any extra cost to you).
Which Chatbots Are the Most User-Friendly?
Here are some of the top-rated online chatbots that you can use to enhance your customer service.
1. Clare.AI
Clare.AI is perhaps the most innovative chatbot when it comes to online banking services. Through a combination of machine learning algorithms and natural language processing (NLP), it provides customized solutions to your customers.
Image via YouTube
It can respond to major customer FAQs, help in arranging appointments, and even conduct internal inquiries for HR and IT.
Customers can control all of their finances through their messaging apps such as Messenger or WhatsApp. It can also come up with a detailed chart that shows how much users have spent and where they've spent the money.
And isn't that what your customers would want?

2. Dialogflow
Dialogflow is one of the finest examples of the most user-friendly chatbots online.
It uses AI and natural language processing algorithms. It integrates both text and voice AI into popular voice assistants such as Google Assistant and Amazon Alexa. This makes it a favorite among companies that have large customer bases.
Image via Google Cloud
What's more, you ask?
It's possible to integrate this online chatbot into Facebook Messenger, Skype, Slack, Telegram, and many other messaging apps. The best part about this chatbot platform is that it evolves continuously so it's always up-to-date with the latest needs of users.
The only drawback of Dialogflow is that there are certain limitations in place when you try to use it for other languages.
3. Botsify
Botsify is one of the best online chatbots for those who don't want to do a lot of programming during chatbot development.
How can I say that?
It's got a smooth interface that lets you drag-and-drop customized chatbot templates with just a few clicks. That makes it very simple for you to create a chatbot that's personalized to your requirements.
Image via pickSaaS
This chatbot has a knowledge base against which it compares all of the users' questions. If it fails to handle a certain request/question, you can teach it so that it can deal with that query in the future.
If at any point in the chat, you feel that the chatbot isn't performing up to your expectations, you can easily take over the conversation to ensure a smooth customer experience.
Isn't that a great advantage?
4. ManyChat
If you're looking for online chatbots that offer a great UI UX design, then ManyChat may be the answer. Its well-designed interface has captivated the attention of many users in the past and continues to do so even today.
The platform is extremely simple to use and requires almost zero coding knowledge. This makes the bot accessible to a wider audience.
Image via MonetizePros
While this ease-of-use is its major advantage, it's also its biggest disadvantage.
How's that?
While you can do loads with this online chatbot, its functionality can't be explored to the fullest because coding isn't possible. This makes it inflexible compared to the others.
5. Twyla
Twyla is one of the most unique online chatbots and operates slightly differently than the others. It uses what the company calls a "hybrid brain."
What does that mean?
Twyla allows you to enjoy all the benefits of scaling up that machine learning offers. At the same time, it also gives you more control through rule-based algorithms.
Image via Twyla
You can easily track the KPIs and measure your ROI through their dashboard.
It's possible to see how many chats are currently being handled by the chatbot and how many of those are going to human agents. You can also see the number of conversations that are giving satisfactory outcomes too.
6. Conversable
Conversable is one of the most friendly online chatbots and has found takers in Pizza Hut, Marvel, and TGI Fridays.
This multi-channel chatbot delivers both voice and text-based AI experiences on multiple platforms. These include the major social media websites, Amazon Echo, and Google Home. It's a software-as-a-service (SaaS), and that makes it very easy to handle as well.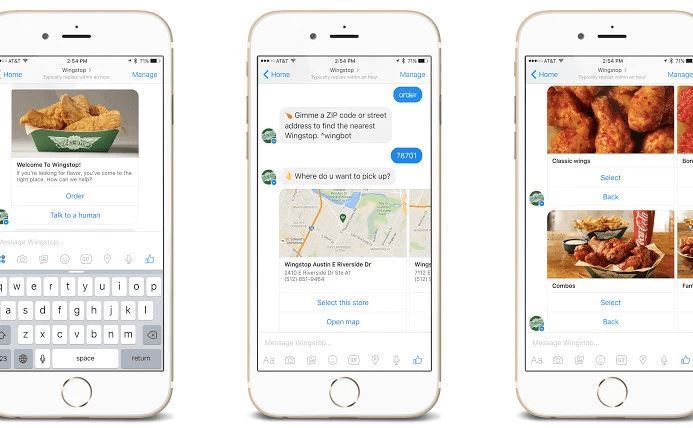 Image via TechCrunch
While this chatbot technology does require some coding expertise, doing it well can unleash the power of this customer service wizard. It's the one chatbot that can help you improve your user experience manifold and beat your competition.
However, as it requires some level of coding, it can be difficult for those businesses which want ease of use. Nonetheless, such online chatbots show you the future of AI in digital marketing.
7. Morph.ai
Morph.ai is one of the best AI chatbots out there.
Why am I saying this?
It can be integrated into Messengers, websites, and even mobile apps. The chatbot can automate nearly 70% of your customer support and can be integrated into your CRM and support tools as well.
Image via Morph.ai
As it's AI-powered, it has the capability to learn new conversation skills and can understand more queries through the conversations. It's also possible to make your conversations more interesting through the use of carousels, cards, and quick replies.
It may soon have support for some of the most famous CRMs such as Salesforce, HubSpot, and Zendesk.
8. ChatBot
ChatBot claims that you will be able to have your first bot up and running within 10 minutes. It aims to automate up to 80% of your customer care processes, which can improve the customer experience manifold.
There's more…
Image via ChatBot
They've also partnered with loads of platforms so that you can easily integrate it. Some of the most prominent ones are Facebook Messenger, YouTube, Twitter, Kik, and Slack. It promises to reduce the effort required to do simple tasks such as book hotels or take food orders.
9. Bold360
Bold360 is one of the best online chatbots when it comes to those that are AI-powered. It's used by some of the most popular brands out there such as IKEA, Thomas Cook, Vodafone, and RBS.
Image via Bold360
It allows you to engage users across multiple digital channels from anywhere in the world through your mobile.
The AI engine helps you personalize interactions between the chatbot and the customers through data collection and processing.
And the best part?
You don't need any data scientists to analyze the data collected by the chatbot.
FAQs
Q1. What is an online chatbot?
A. A chatbot is an artificial intelligence program that is trained to talk like humans and perform certain small, repetitive tasks. An online chatbot usually refers to a chatbot installed on a website to talk to website visitors.
Q2. What websites use Chatbots?
A. Any website that wants to provide a way for their visitors to find information, perform tasks, and get quick answers to questions can install a chatbot. One common example is the pizza brand, Domino's, which uses a chatbot to allow users to place pizza orders directly from the website.
Q3. What are some of the best AI Chatbots available online?
A. While there are many good AI chatbot options available online, here's our list of the top nine AI chatbots:
Clare.AI
Dialogflow
Botsify
ManyChat
Twyla
Conversable
Morph.ai
ChatBot
Bold360
Q4. What are the best Chatbots?
A. The best chatbots are ones that have natural language processing and machine learning capabilities. Such chatbots can understand and mimic human conversations with greater accuracy than other chatbots. These chatbots also learn from their past conversations and keep evolving over time, making them truly intelligent.
Q5. Is Alexa a chatbot?
A. Alexa is primarily a voice-based virtual assistant, but after Amazon rolled out some new features, it can be officially categorized as a chatbot as well.
Q6. Are Chatbots really intelligent?
A. Chatbots have some level of basic intelligence, but not something at par with human intelligence. Chatbots that have machine learning capabilities, however, can be termed as "intelligent" as they can learn and grow with their experiences, just like humans do.
Q7. Is Google Assistant A chatbot?
A. Google Assistant is an AI-powered virtual assistant that can be considered as a voice-based chatbot.
Q8. Are Chatbots the future?
A. Yes, chatbots have numerous applications and benefits in almost every field and are indeed one of the technologies that will dominate in the future.
Q9. Is a virtual assistant a chatbot?
A. Yes, a chatbot can work as a virtual assistant if it has the capability to perform certain tasks, other than just talk. However, not all virtual assistants are chatbots and vice versa.
Q10. How do Chatbots make money?
A. Chatbots can help your business make money by providing relevant product recommendations to users and directing them to the right product pages. Chatbots can also share affiliate links with users and you can earn commissions from those links.
Which Online Chatbot is Best?
The answer to that question depends a lot upon the specific niche and needs of your business.
Online chatbots are crucial for the growth and success of your business. They can help automate your conversations with consumers and reduce the time taken to solve their issues.
Additionally, they allow your brand to offer 24×7 customer service, which can improve your customer experience. Using AI-powered online chatbots can further help with the personalization of conversations. This, in turn, can help boost your customer experience and sales even further.
Ready to get started?
Are there any other online chatbots you think we should add to this list? Let us know in the comments.
Disclosure: This content has a few affiliate links, which means if you click on them, I will get a commission (without any extra cost to you).