Nexcess Review: Managed WordPress Hosting That's Worth It
August 17, 2021
• 0 Comment
Nexcess Review: Managed WordPress Hosting That's Worth It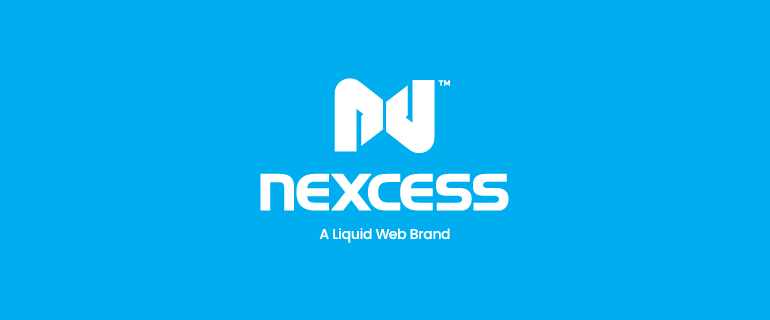 When it comes to web hosting, there's a ton of choice available.
Web hosting comes with varying feature sets, price points, and added bonuses. But when you own a WordPress website, sometimes you need a hosting solution that comes with a little more than what the small guys can offer, even if it means you have to pay a little more in monthly fees.
Using a web hosting provider that's optimized for WordPress and comes with a managed hosting platform ensures that you have enough time leftover to handle things like content creation, digital marketing, site design, and much more. That's why choosing a managed WordPress hosting provider like Nexcess is often the right choice.
If you're looking for a powerful managed WordPress web host that promises top notch speed and performance, reliability, and uptime, Nexcess has your back – or does it? Keep reading this Nexcess review to find out if it's the best service for you.
What is Managed WordPress Hosting?
In short, Managed WordPress hosting is web hosting that is optimized for the WordPress platform in terms of management, security, and speed. Plus, it makes managing your website a lot easier. That's because when you sign up for managed WordPress web hosting, your hosting provider 'manages' many aspects of your site and server for you, such as:
Updates to the WordPress core, plugins, and themes
Secure, offsite backups of your website
Performance optimization so your loading times stay low
Server configuration if you're on a VPS or dedicated plan
Exceptional support for those times you run into problems
So, now that you know what possibilities are available when you use WordPress managed hosting, let's take a look at what Nexcess has to offer.
Nexcess Review

Nexcess was established in 2000 and has grown into a highly respectable and trusted web hosting company. It offers managed hosting for WordPress, WooCommerce, Magento, Druapl, BigCommerce, and more.
In fact, Nexcess is one of the few hosting companies around that refuses to take part in the 'cheapest web hosting plan possible' rat race. Instead, it seeks to offer only the highest quality web hosting plans people are willing to pay for.
This makes it the ideal web hosting provider for small businesses, well-trafficked blogs, eCommerce shops (especially those using WooCommerce), digital agencies, and more.
Boasting over 30,000 customers across 130 countries, Nexcess continues to improve and grow. Not to mention, it comes with a stamp of approval from existing customers, claiming to have one of the highest loyalty rates in the web hosting industry.
In a nutshell, Nexcess is all about Powering Your Business Potential™. But is it worth it?
Nexcess Hosting Plans
As we mentioned above, Nexcess offers a variety of hosting plans. However, we are going to focus on its managed WordPress hosting solution.
Managed WordPress hosting services that actually take care of everything are not always easy to find. That said, with Nexcess you get it all – plus some. And to start, this means zero overage fees, traffic limits, or metered pageviews, because the team behind the company don't believe in being like the others. In other words, you can grow your WordPress site without worrying about being cut off before you reach your potential.
Other features you get include:
PHP 7 support, Nginx, and image compression for the fastest loading speeds
Free site migrations with zero downtime
Full server access
Automatic daily backups (stored offsite for 30 days)
Free SSL certificates for securing site data
Plugin updates pre-tested in a staging environment
Built-in developer tools (SSH, Git, and WP-CLI)
Of course, this is just the beginning. Let's see more of what Nexcess has to offer website owners.
Nexcess Features
1. Easy to Use Control Panel
Every plan, except the managed WordPress one, comes with a control panel choice: cPanel or Plesk. However, when you choose a managed WordPress hosting plan, you only have the option to use the proprietary control panel, which comes with an easy to use interface and the ability to manage multiple WordPress sites from one place.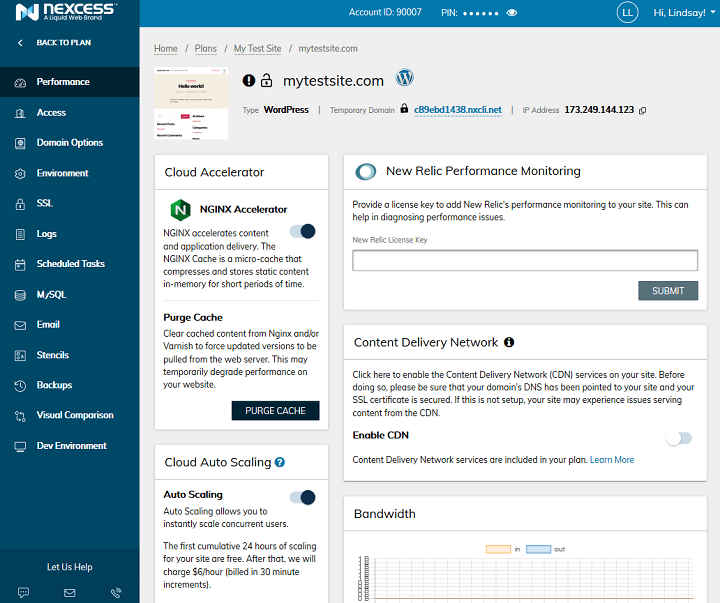 There's an easy to use dashboard that gives you access to all the tools needed to manage your site. Here are just some of the things you can do from the control panel:
Enable the Nginx Accelerator to speed up content delivery and purge its cache
Turn on the free CDN services you get with your hosting plan
Monitor bandwidth use
Set up an FTP account for testing purposes
Configure the free SSL certificate (included in the hosting)
Manage your email accounts
Create manual backups
Set up staging and development environment
You can also access support right in the control panel – either chat, email, or phone.
2. Exceptional Speed and Performance
Nexcess privately owns and operates 3 core datacenters, all of which come with exceptional speeds:
US-Central Region: 402ms
US-West Region: 453ms
EU-Central Region: 765ms
Pretty fast right? Keep in mind, I'm running this test from the US-West Region.
Nexcess does more than just boast fast speeds however. In fact, it comes with powerful features that help your website run at optimal speeds and perform well, that go beyond typical speed features:
Datacenters that come equipped with redundant cooling, networks, and power to guarantee uptime and speed
Over 25,000 servers in privately owned datacenters
Built-in image optimization tools that compress images and ensure fast loading
24/7/365 expert network monitoring
HTTP/2, which helps with site speed and security
Tier-1 bandwidth connections that minimize latency across the globe
Lastly, Nexcess supports the most version of PHP 7, which is important because early versions of PHP either no longer receive support or are nearing the end of their lives very soon.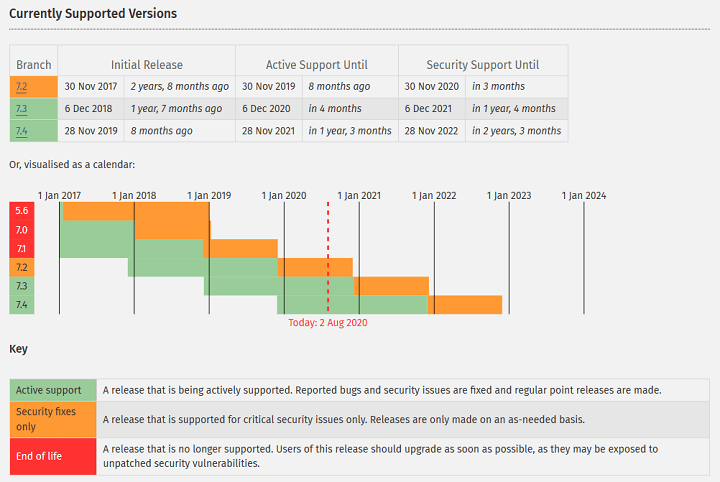 As you can see, Nexcess supports up to PHP 7.4, which is actively being supported.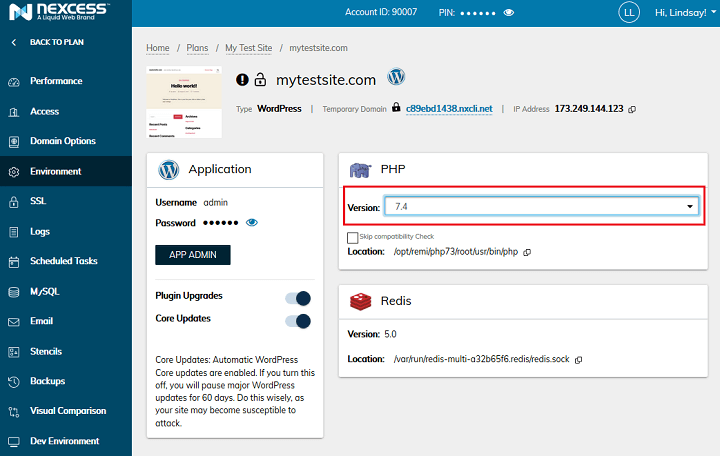 3. 100% Uptime Guarantee
Nexcess is one of the very few web hosting companies out there that offers a 100% uptime guarantee. Of course, it's not realistic to think this is actually going to happen. In fact, Nexcess does outline some exceptions:
Malicious attacks that take out a server(s) (e.g., a DDoS attack)
Scheduled network, hardware, or software maintenance
cPanel issues that cause disruptions
Legal actions taken against your website or company
Despite all this, Nexcess does a dang good job of maintaining an impressive and above industry standard uptime. In fact, in 2019 its network uptime was 99.9992%.
Want to see some more recent uptimes for Nexcess? Check out the server status page here: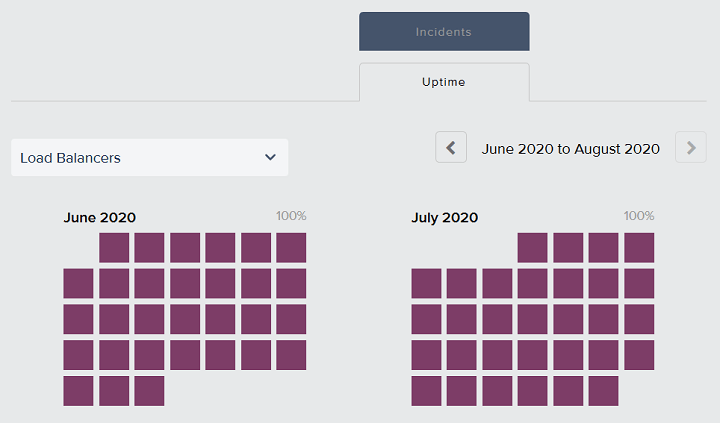 For those times when your site does legitimately go down, Nexcess offers a 10 times credit for the amount of downtime to all hosting customers affected. For instance, if your website goes down for 1 hour, you'll receive a 10 hour hosting credit to your account.
4. Site Migrations
Ready to make the switch from one web host to Nexcess? Want to upgrade your current Nexcess hosting plan?
No matter the reason you're migrating, you can do so for free when you use Nexcess. Plus, the expert team will help you make the move, making it easier on you and less likely that your site will experience the white screen of death.
Sounds like a win-win if you ask us.
5. Free CDN Services
No matter what kind of website you have – big or small – delivering content to site visitors quickly around the world should be a priority. Luckily, it comes with free CDN services, which are easily enabled from the control panel.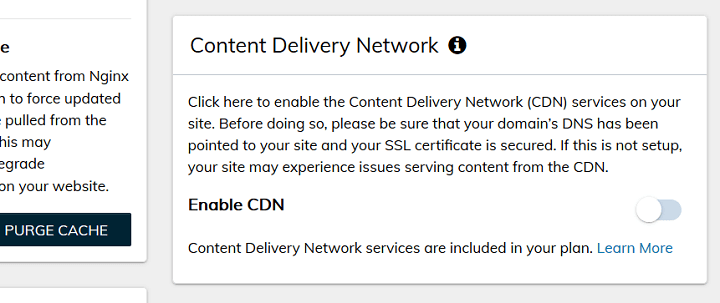 In addition to speeding up your site's load times, a CDN can also help prevent DDoS attacks.
Support, Documentation, and Pricing
Backed by The Most Helpful Humans In Hosting®, Nexcess makes sure to provide stellar support. The support team receives over 300 hours of training within the first year, so you can trust any representative you talk to knows what they're doing.
Even better, they're on standby 24/7/365, so any time you need help, you never have to wait to get your problem resolved:
Help Desk System: expect a response within 30 minutes of submission. If you fail to receive a response within 59 minutes, you'll get a hosting credit to make up for it.
Phone: expect to have your phone call answered within 59 seconds. If not, you'll receive a hosting credit.
Live Chat: expect a response within 59 seconds of submitting your department choice and pre-chat survey questions. If not, you'll receive a hosting credit.
There are plenty of hosting plans to choose from: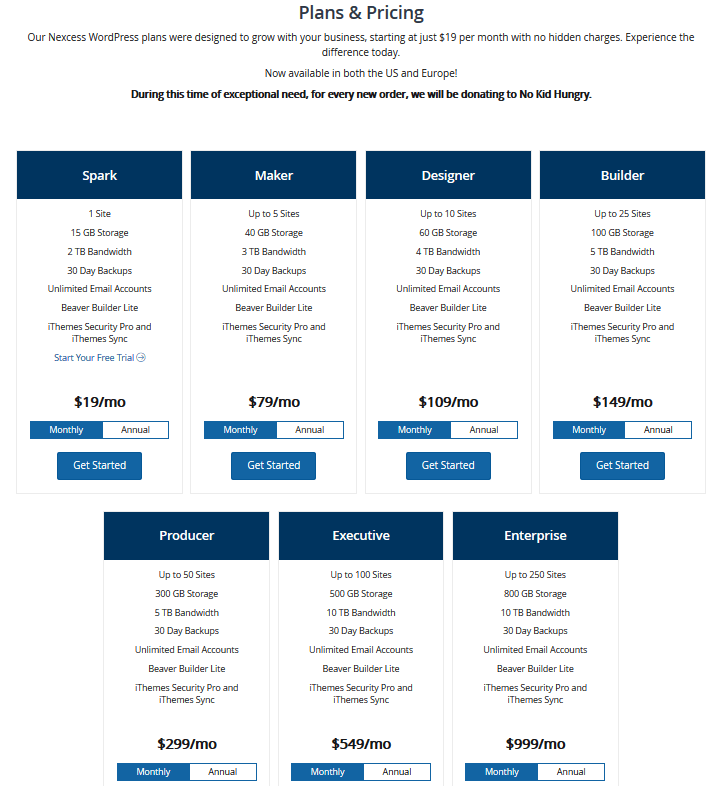 Each plan differs when it comes to how many websites can be hosted on the plan and the amount of storage and bandwidth that you have available.
That said, it's good to know you can get 14 days of managed WordPress hosting for free to see if you like what the company has to offer. You won't even have to enter a credit card to give it a try.
Nexcess Speed Tests
Now that you know all the great things Nexcess has to offer, it's time to take a look at how fast it can load a new website. Using two popular online speed test tools – GTmetrix and Pingdom – we found the following results.
GTmetrix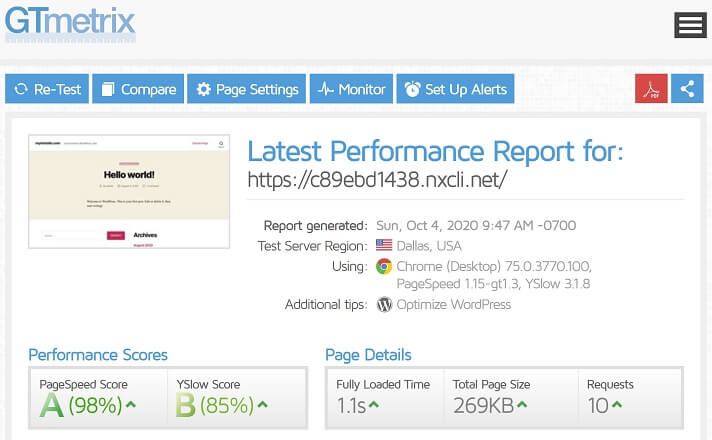 We ran a few tests using GTmterix from different server locations to see how well it could load across the globe:
Dallas, USA – 1.1s
London, UK – 2.3s
São Paulo, Brazil – 2.5s
Note that it also earned a PageSpeed Score of 98%, which is quite impressive.
Pingdom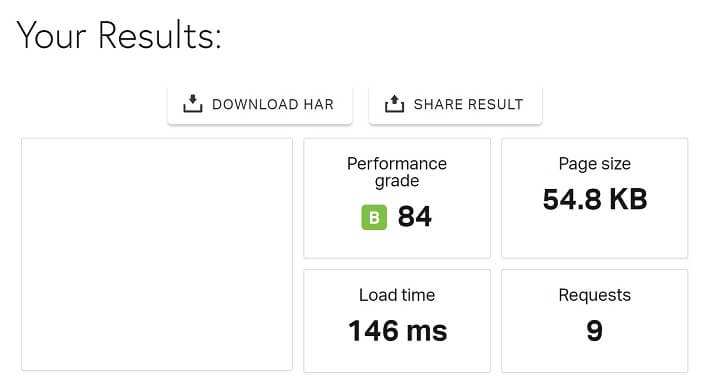 We ran a few more speed tests using Pingdom and found that the loading times were much faster than what GTmetrix revealed, even as the server location got farther away:
North America, USA, San Francisco – 146ms
North America, USA, Washington D.C. – 586ms
Europe, United Kingdom, London – 1.13 seconds
Asia, Japan, Tokyo – 825ms
As you can see, Nexcess has a lot to offer when it comes to speed and performance. This means you're sure to give your site visitors the experience they expect every time they land on your website.
Final Words
Nexcess is a high-quality web host that prides itself on being the whole package for those that need powerful web hosting for their WordPress website.
When compared to other managed web hosts, it definitely pulls ahead of the competition in terms of features. From free site migrations to CDN services, and 100% uptime to around the clock support, Nexcess is a great option for anyone looking for a reliable web host.
Find out more about Nexcess!
Don't forget to use our 40% off Nexcess hosting coupon using the code KUBE40.