Shopify Fees (2021) — A Guide to Shopify Pricing: Which Shopify Plan is Best?
August 14, 2021
• 0 Comment
We follow a strict honesty policy. However, to fund our work, we use affiliate advertising links on this blog.
In this guide to Shopify fees, I take a look at how the Shopify pricing structure works and discuss the pros and cons of each plan.
---
If you're thinking of using Shopify to sell goods online, you'll know that there are several different pricing plans to choose from — and you might be wondering which one is the right one for your business.
So, in this post, I'm going to look at Shopify fees in depth, taking you through each of the available plans and highlighting the aspects that might make one Shopify pricing plan better than another.
By the end of this article, you'll know which plan is best suited to your project — and what alternatives are available if you feel Shopify isn't quite right for you.
Let's start with a key question…
---
What is Shopify?
Simply put, Shopify is an application that allows you to build your own online store.
It runs in a web browser — so, as long as you have internet access, you can use the platform from anywhere. In other words, you don't need to install software to use it, and because it's a 'hosted' solution, you don't need to worry about buying hosting either.
The precise functionality you get from Shopify depends on the pricing plan you opt for — I discuss all these in depth below — but all Shopify plans allow you to sell an unlimited number of products (digital or physical), and all but one allow you to pick a 'theme' which you can use to sell your products with.
(Your 'theme' is basically your template or web design.)
Shopify is a software as a service ('SaaS') tool — this means that you don't own a copy of the software but rather pay a monthly fee to use it.
And speaking of which…
---
Shopify fees — the pricing plans available to you
There are five Shopify plans available:
Shopify Lite — $9 per month

Basic Shopify — $29 per month

Shopify — $79 per month

Advanced Shopify — $299 per month

Shopify Plus — negotiable, but usually costing around $2000 per month
If you have the budget to pay upfront, you can reduce your Shopify fees by purchasing an annual or biennial plan — 10% and 20% discounts are available if you pay for one year or two years of service respectively, instead of paying on a monthly basis.
There is also a free Shopify trial that lets you test out the features provided by all the above plans.
Finally, there's a new add-on available, 'Shopify POS Pro,' which unlocks more advanced point-of-sale functionality; this costs $89, per location, per month. I'll discuss this later in the post — but for now, let's drill down into the features of each of the Shopify plans.
Have you seen our Shopify video review?
Full Shopify review
---
'Shopify Lite' pricing
At $9 per month, 'Shopify Lite' represents one of the cheapest ways into selling products online — but you need to be aware that it doesn't provide you with a standalone, fully-functional online store.
Rather, it allows you to
sell an unlimited number of products on an existing website

sell on Facebook

use Shopify as a point of sale (POS) system for selling products in physical locations (market stalls, gigs, events etc.)
Embedding your products on another website with Shopify Lite
With 'Shopify Lite', you get a 'Buy Button' that lets you embed your products into another website.
This works in a similar — but arguably better — way to Paypal, in that you add a snippet of code to your website and your product's details (photo, price, description etc.) along with an option to buy that product, appear on your site.
Any changes you make to your products will be automatically reflected on your site too — you control everything from Shopify's interface.
You aren't restricted to embedding single products either — you can embed entire collections of products.
This is ideal for anyone with an existing site that wants to add simple e-commerce functionality. For example, you might already have a WordPress blog or website that you want to embed products on — this solution is perfect for that.
Shopify Lite and digital products
One of the things that I most like about Shopify as an e-commerce platform is the way that it facilitates the sales of digital products.
Selling digital products can be a more complicated affair than it might seem, because if you sell them to consumers living in the EU, and generate more than €10,000 in revenue per year from them, then you are required to apply VAT to those products (even if you are not a VAT-registered business).
Not only that, but the VAT rate for digital products varies from country to country — so you might need to charge your Irish customers one VAT rate, your French ones another and so on.
Shopify seems to be unique amongst the major website builder platforms in catering adequately for this. You'll need to install a free 'Digital Downloads' app and make a couple of changes to your Shopify settings, but once you do, the correct tax rates will automatically be applied.
Accordingly, the 'Shopify Lite' plan may work out better for a lot of people who set up their site on another platform — I'm thinking in particular of Wix or Squarespace users — and now want to sell digital goods without building a whole new website. The 'Lite' plan offers a relatively-low cost workaround for this.
The other nice thing about Shopify and digital products in general is that the file size limit is pretty generous by comparison to its competitors. Digital products of up to 5GB in size can be sold with Shopify.
This contrasts very positively with BigCommerce, which applies a 512MB limit, and Squarespace's, which restricts product download size to 300MB.
Selling on Facebook with Shopify Lite
If you are only interested in selling on Facebook, and aren't bothered with creating a standalone store, then 'Shopify Lite' is a potentially good option — with a couple of clicks of a mouse you can publish all your products to your Facebook page, on a dedicated 'Shop' page. 
One limitation of the Facebook integration to be aware of is that you can't use it to sell digital products, as I found out when trying to sell my e-book on the Style Factory Facebook page.
This is due to the fact that Facebook doesn't permit selling of digital products, however — it's not a feature omission by Shopify.
Using Shopify Lite as a backend system for a physical store
'Shopify Lite' is a reasonably good option for those who sell in physical locations and need a solution for processing payments and managing their inventory.
It allows you to accept payments via your smartphone using a card reader and the Shopify app; and every time you make a sale, Shopify will take a note of this and update your inventory accordingly, meaning you're unlikely to run out of stock when you need it most.
This syncing of real-world sales to an online selling platform also makes bookkeeping and accounting a bit easier.
However it's important to note that the most comprehensive point-of-sale features are only available for an extra fee — via the 'Shopify POS Pro' add-on.
(More on this shortly).
Transaction fees and credit card fees
It's important with all Shopify plans to be aware of the difference between transaction fees and credit card fees.
Transaction fees are charged by the company providing your online store, and credit card fees are charged by your payment gateway provider (a payment gateway is basically the software used to process credit card payments).
There are no transaction fees to worry about with 'Shopify Lite', so long as you are prepared to use Shopify's own payment processing option — Shopify Payments — as the payment gateway.
There is a bit of a catch here for some users however, as Shopify Payments is not yet available in all countries. At time of writing, the supported countries are currently as follows:
Australia

Austria

Belgium

Canada

Denmark

Germany

Hong Kong SAR

Ireland

Italy

Japan

The Netherlands

New Zealand

Singapore

Spain

Sweden

United Kingdom

United States of America (but unavailable to US territories except Puerto Rico.)
If you're on the 'Lite' plan and using Shopify Payments, credit card fees in the USA are 2.9% + 30c if a purchase is made online (for example, using a Shopify Buy button) and 2.7% + 0c if a purchase is made using the Shopify point of sale card reader and a mobile device.
If you use a third party payment gateway, you can expect to pay a 2.0% transaction fee on each sale made via the 'Lite' plan, plus whatever your credit card fees your payment gateway provider charges.
IMPORTANT: Shopify's credit card fees vary by country — the ones listed in this article are the US ones, but differing rates are available in different territories. For example, the UK credit card rates for the 'Lite' plan are considerably cheaper than the US ones: 2.2% + 20p for online transactions and 1.7% for in-person ones.
Abandoned cart recovery
The inclusion of abandoned cart recovery in the $9 'Lite' plan is relatively new, and very welcome — it used to be only available on the $79+ Shopify plans.
Abandoned cart recovery allows you to identify site visitors who add a product to their cart, get to the checkout and then leave your store without completing the purchase.
You can then either choose to use Shopify's abandoned cart saver manually (i.e., send the visitor in question an email yourself) or automatically (where Shopify sends an email to the potential customer after every abandoned cart).
The automatic option is usually best, due to the time-saving implications.
Abandoned cart recovery can significantly increase your revenue with little effort — other than the time investment in setting up an automated message — being involved.
The interesting thing about abandoned cart recovery's inclusion on this plan is that it means Shopify offers this functionality at a considerably lower price point than many of its key competitors.
For example, if you want a cart saver on Bigcommerce, you'll have to be on a $79.95 per month plan; with Squarespace, a $54 per month plan; and Volusion a $79 per month plan.
Because of the importance of abandoned cart saver functionality, the inclusion of this feature across all plans constitutes one of the stronger arguments for choosing Shopify over competing products.
Download our free e-commerce e-kit
For a limited time, we're offering our readers some excellent free tools. Sign up free to immediately receive:
our online store comparison chart
a downloadable cheatsheet on how to create an online store
our SEO, blogging and 'how to start a business' cheatsheets
extended free trials and discount codes for essential business apps
our latest tips on e-commerce and growing a business
View privacy notice.
What about dropshipping with Shopify Lite?
Many potential users of Shopify will be wondering how it facilitates dropshipping, a fulfilment method where you don't keep what you're selling in stock.
With dropshipping, you take an order, send it to a supplier, and they deliver the goods to your client — your store in effect becomes a 'middle man.'
If you want to dropship with Shopify, you need to install a third party app to do so. You can get one from Shopify's app store — a popular choice is Oberlo (which integrates with AliExpress), but there are many others available.
You can use a dropshipping app on any Shopify plan, Lite included, but you'll probably find that they are more useful on one of the other Shopify plans (as the products you are selling will be displayed, and searchable, on a fully-fledged online store).
That said, if you intend to integrate the 'Shopify Lite' plan with another platform — for example WordPress or Squarespace — the fact that you can use it to start dropshipping is unquestionably helpful.
The Shopify dropshipping starter kit
If you're interested in dropshipping, I'd recommend that you take a look at Shopify's dropshipping starter kit — with this, you get 14 days of free access to Shopify plus lots of bundled resources and tools that show you how to launch a successful dropshipping Shopify store.
You can access the starter kit here.
Support on Shopify Lite
Although 24/7 support is included with the plan, this is limited to email and live chat only — you won't be able to speak to anybody about your account in person over the phone.
Is 'Shopify Lite' for me?
Shopify Lite is best suited to merchants who
want to add e-commerce / dropshipping functionality to an existing website

want an easy way to solve VAT MOSS related headaches

wish to sell on Facebook (but don't need the ability to sell digital goods on the platform)

want a platform to process payments and manage inventory when selling at markets or events

are comfortable with only having access to live chat and email support only (i.e., no phone support)

want cheap access to abandoned cart saving functionality.
You can try Shopify Lite for free here.
If your needs are a bit more extensive, it's time to look at 'Basic Shopify.'
---
'Basic Shopify' pricing
'Basic Shopify', at $29 per month, is the cheapest Shopify plan which enables you to create a fully functional, standalone online store.
The plan includes the following core features:
A

fully functional website version of your store (i.e., as opposed to just a 'buy button')

Ability to sell an unlimited number of products

2 staff accounts (i.e., 2 separate logins or 'seats')

24/7 support via phone, email and live chat

Manual order creation (this allows you to create new orders and enter card payments in Shopify for sales you've made offline — by phone, in person, or elsewhere)

Discount code creation

A free SSL certificate (this allows you to host your store securely using the HTTPS protocol)

Abandoned cart recovery

Gift cards

A blog

Discounted shipping rates (depending on the country you're selling from)

Ability to print shipping labels (depending on the country you're selling from)

Fraud analysis (as the name suggests, this allows you to spot fraudulent transactions)

Point of sale features
'Basic Shopify' vs 'Shopify Lite' — what are the main differences?
The most important thing you get with 'Basic Shopify' that you don't get on 'Shopify Lite' is a fully functional online store. This includes blogging functionality, which is essential for generating traffic via inbound marketing.
You get all the 'embeddable' and 'sell-in-person' functionality that comes with Shopify Lite, but importantly, you get a website which you can host on your own domain (i.e., www.yoursitename.com).
Let's take a look in a bit more depth at some of the key features you get on the 'Basic' plan which you won't find on 'Lite': templates, more comprehensive support, abandoned cart saver functionality and blogging.
Trying Shopify out for free
The majority of the features under discussion in this post on Shopify pricing can be tried out for free, thanks to a fully functional free trial. It's worth availing of this, as it will give you a hands-on way to see if Shopify meets your requirements (and budget).
The trial lasts 14 days, but if you need more time to construct your store, you can usually extend this period upon request.
You can access the trial via this link.
Templates
Once you're on a 'Basic Shopify' plan (or higher), you can choose from a wide range of templates for your online store — there are 9 free ones, and 72 paid-for ones.
I've always found the free Shopify themes to be perfectly usable (and you can tweak them quite extensively by adding CSS and HTML), but if you fancy using a paid theme, they cost between $140 and $180.
Shopify's theme store is very easy to browse, because it provides a lot of search filters which you can use to locate a suitable theme for your Shopify site.
You can take a look at the Shopify themes on offer here.
You can filter all the templates using a wide range of criteria, including paid vs free, industry, layout type and visual effects (i.e., parallax scrolling, video backgrounds etc).
One thing that's important to note about the themes is that if you need any support with installing or configuring them, you may end up dealing with a third party — Shopify only supports themes that the company has developed itself.
This means that Shopify will support you with any query you have about the free ones, but you may be referred elsewhere if you buy a paid theme. 
And speaking of support…
Support on 'Shopify Basic' vs 'Shopify Lite'
As mentioned earlier, although customer support is included with Shopify Lite, it is limited to email and chat only. 'Basic Shopify' provides you with phone support too.
This is provided using a callback request system — on the plus side, this means no waiting on hold…but still a bit of waiting.
What about Shopify's shipping fees?
It's easy to set up simple shipping rules based on price or weight using any Shopify plan.
When it comes to real-time shipping rates — where carriers provide live estimates at checkout, based on distance, weight and the number of boxes needed to ship items — you have two options, depending on your location.
Shopify Shipping
If you're based in the US, Canada or Australia, you'll find that Shopify has teamed up with a selection of local postal companies to provide real-time carrier shipping (and also provides preferential rates with these companies). This service — "Shopify Shipping" — is available on all plans, and the discounts provided can be quite generous.
In the US, the carriers you can use as part of the Shopify Shipping servce are USPS, UPS and DHL. In Canada, the service is provided by Canada Post and in Australia by Sendle.
Third-party calculated shipping rates
Alternatively, you can use third-party calculated shipping rates — however, you can only do so if:
you pay a monthly add-on to do so
you pay for the 'Shopify' plan on an annual basis
you are on one of the most expensive Shopify plans (the $299 'Advanced Shopify' plan or higher).
This contrasts negatively with some competitors, notably BigCommerce, which makes this feature available on all its plans, even its entry level one.
A blog
If you're serious about selling products online, you really need to blog; it's a core part of any decent inbound marketing strategy because it generates relevant keyword-rich content that can make your site more visible in search results and increase traffic significantly.
'Basic Shopify' provides you with a blog that you can use to increase traffic to your store by publishing relevant keyword-rich content.
Shopify's blogging feature doesn't rival WordPress in the functionality stakes — it doesn't facilitate content versioning, and the post categorisation options are fairly limited — but that said, it's perfectly usable and, with the publication of good content, can facilitate an inbound marketing campaign well.
Transaction fees and credit card fees
When it comes to transaction fees, they are the same as 'Shopify Lite' — i.e., there are no transaction fees if you're using Shopify Payments, but a 2.0% transaction fee on each sale applies if you're using a third party payment gateway.
Credit card fees are also the same as the 'Shopify Lite' ones: 2.9% + 30c if a purchase is made online and 2.7% + 0c if a purchase is made using the Shopify point of sale card reader and a mobile device.
As mentioned earlier, the above rates vary by country, so you may enjoy cheaper rates than the above depending on the territory you're operating from.
Is Basic Shopify for me?
'Basic Shopify' is good for merchants who
have a fairly limited budget but need a well-specced standalone online store

do not need advanced selling or reporting functionality (more on that below)

want to use blogging as a means of attracting inbound traffic
You can try Basic Shopify for free here.
Moving up the ladder, we come to the 'Shopify' plan. Before discussing that however, a quick word about inventory location limits.
Inventory location limits
Shopify recently introduced the option to set up multiple locations in your Shopify store and track inventory and fulfill orders at them. Your locations can be retail stores, warehouses, popups, etc.
To ensure your inventory quantities are always accurate, online orders and in-person sales are assigned to locations. If some of your inventory is out of stock at one location, but it's in stock at another location, then Shopify will split the order so that it can be fulfilled from multiple locations.
The maximum number of locations that you can have depends on your plan:
3 with 'Shopify Lite'
4 with 'Shopify Basic'
5 with 'Shopify'
8 with 'Advanced Shopify'
20 with 'Shopify Plus.'
(You are advised to contact Shopify support if you're a Plus customer needing more than 20 locations).
---
'Shopify' pricing
The next plan to consider is simply called 'Shopify' and the pricing for this is $79 per month.
The key additions that the 'Shopify' plan brings over 'Basic Shopify' are:
professional reporting

the option to use USPS Priority Mail Cubic pricing

(US users only)

lower transaction and credit card fees.
Professional reporting
In-depth reporting functionality is quite a big omission from 'Basic Shopify' plan and one of the biggest reasons why you might want to go for the 'Shopify' plan over 'Basic.'
With 'Basic Shopify', the reporting functionality is — in keeping with the plan name — quite basic. Upgrading to the 'Shopify' plan however gives you access to a wider range of detailed summaries, including:
sales reports

retail sales reports

customers reports

marketing reports.
(Regardless of the type of Shopify plan you select, I'd recommend adding Google Analytics to your site too, as you'll get a host of additional insights by using it.)
It would be nice however if more comprehensive reporting features were made available to Shopify users on cheaper plans — BigCommerce, for example, offers professional reporting on all its plans.
USPS Priority Mail Cubic Pricing
US users who upgrade to the 'Shopify' plan can make use of USPS Priority Mail Cubic® pricing — discounted rates on priority mail for packages that weigh less than 20 pounds and measure less than 0.5 cubic feet in volume.
Lower transaction and credit card fees
The 'Shopify' plan brings with it lower transaction fees than both the 'Basic Shopify' and 'Shopify Lite' plans, along with lower fees for using an external payment gateway.
As with all the other Shopify plans, if you're using Shopify Payments, you will avoid transaction fees.
In terms of credit card fees, you can expect to pay 2.6% + 30c for online transactions and 2.5% + 0c for point-of-sale transactions (US rates).
If using an external payment gateway, the transaction fee applied by Shopify on this plan is 1%.
Is the 'Shopify' plan for me?
The 'Shopify' plan is good for merchants who
have a high volume of online sales (or expect them): if the sales levels are high enough, the lower transaction fees will help offset the higher monthly cost

require professional reporting

wish to avail of discounted shipping rates

need to use Cubic Pricing with USPS Priority Mail.
You can try the 'Shopify' plan free here.
Shopify Email — a new feature included on all plans
A key part of running an online store is email marketing — being able to send e-newsletters to your mailing list is vital to generating sales.
Recognizing this (and perhaps the fact that key competitor Squarespace now offers built in email marketing), Shopify recently introduced a new feature, 'Shopify Email,' which allows you to perform email marketing from within the Shopify interface.
As things stand, this is a very basic email marketing tool, which simply allows you to send branded e-newsletters; in other words, don't expect Aweber or Getresponse style automation features just yet.
That said, it will definitely come in handy for some merchants, particularly those who like to manage all aspects of their online business using just one app.
And it's very reasonably priced: you send up to 2500 emails per month for free with Shopify Email, with a $1 fee applying to every 1000 emails you send after that.
But for now, if you want advanced email marketing features, including autoresponder functionality and marketing automation, you are probably best off considering using a dedicated email marketing tool like Getresponse to handle this.
---
'Advanced Shopify' pricing
With 'Advanced Shopify', you get two key features that are not included with the plans discussed above — advanced report building and real time carrier shipping quotations from third parties.
You also get significantly lower credit card rates (and lower transaction fees if using a third-party payment gateway).
Advanced report building
The 'Advanced Shopify' plan allows you to manipulate your Shopify data more easily, and create your own custom reports.
You can select various dimensions and metrics and use them to create bespoke reports which you can save and refer to in future. You can also apply a multitude of filters to your data to get a view that suits your business activities. (Users of Google Analytics will be familiar with this sort of thing).
In short, this functionality is for vendors who want to drill down into their sales data extensively, with a view to tweaking their sales processes / operations to the nth degree.
Accordingly, these reporting features are of most use to merchants who are selling a lot of goods (as doing so will provide a significant enough amount of data to make the advanced report options worth using.
Third-party real-time carrier shipping
Real time carrier shipping functionality means that the exact shipping rates that carriers charge to ship a customer's order are automatically calculated at checkout.
Depending on the country you live in, you can get this functionality on cheaper Shopify plans — so long as you are happy to use Shopify's preferred providers via the 'Shopify Shipping' service.
However, if you intend to use Shopify with a carrier that isn't part of the 'Shopify Shipping' service — or live in a country where it isn't available — then you are going to have to use the 'Shopify Advanced' plan to avail of third-party calculated shipping rates (or Shopify Plus, more on which below).
As the name suggests, this feature provides a means to calculate a carrier's shipping rates automatically at the exact time an order is placed.
You can edit Shopify's settings to mark these up (i.e., add a handling fee) or down (to compensate for a shipping rate which you feel may dissuade customers from completing a purchase).
Transaction fees and credit card fees
Of the four Shopify plans aimed at SMEs, 'Advanced Shopify' offers the lowest transaction fees.
As with the other plans, if you're using Shopify Payments, there are no transaction fees.
The US credit card fee is 2.4% + 30c for online transactions, and 2.4% + 0c for point-of-sale ones.
Using an external payment gateway costs 0.5% in transaction fees, plus whatever the payment gateway charges you.
Is 'Advanced Shopify' for me?
The 'Advanced Shopify' plan is good for merchants who
have a very high volume of online sales (or expect them): as with the 'Shopify' plan, if sales levels are high enough, the lower transaction fees could provide considerable savings

require advanced reporting features

need real-time-carrier shipping delivered by third parties
You can try 'Advanced Shopify' for free here.
What about selling in different languages and currencies?
If you're on a 'Basic' plan or higher, Shopify lets you sell in multiple languages. The 'Basic', 'Shopify' and 'Advanced' plans let you create versions of your site in up to 5 languages; 'Shopify Plus' lets you translate using up to 20 languages.
When you enable multi-language selling, a language 'folder' is added to your domain. So you'll end up with myshop.com/fr/, myshop.com/de/ etc.
If you prefer, you can also use an international domain — myshop.fr, myshop.de etc. — to host foreign-language versions of your store. However, you will have to be on a Shopify or higher plan to do that.
As for currencies, you can sell in multiple currencies on the 'Basic' plan or higher. However, note that to customize your product prices for different countries (i.e., with a percentage increase or decrease for certain territories), you will again need to be on the 'Shopify' plan or higher.
---
'Shopify POS Pro' pricing
Shopify recently made quite a big change to their pricing structure for point-of-sale (POS) features.
Whereas more Shopify point-of-sale features (POS) were traditionally made available as you climbed the pricing ladder, you now have to invest in a 'Shopify POS' add-on to avail of them.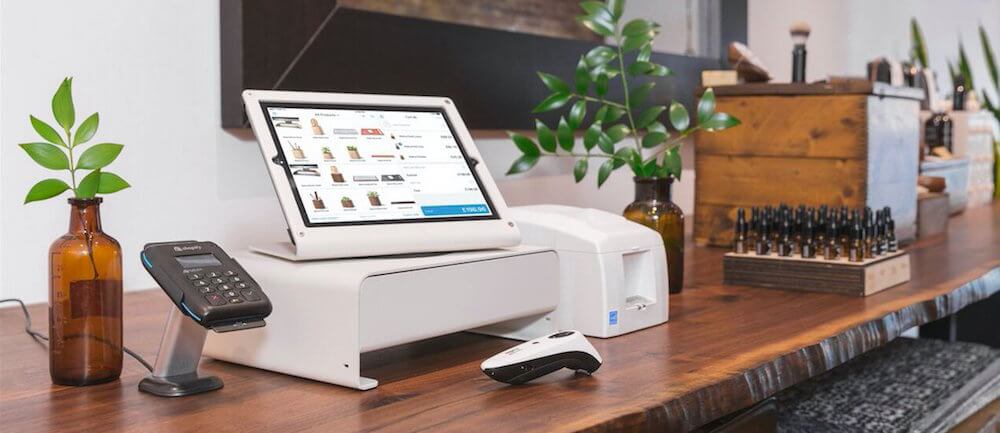 This means that you're looking at a not-inconsiderable $89 per month, per location fee on top of your regular Shopify costs.
It's important to point out that ALL Shopify plans do include quite comprehensive POS features as standard — you can sell in a physical location easily enough (and sync your inventory) using your Shopify store plus POS hardware.
However, you will need the add-on if you want to do things like:
work with a large number of POS-only staff

allow your customers to buy online and collect in store

facilitate product exchanges

provide custom printed receipts

define specific staff roles and permissions

attribute sales to particular staff members.
Buying Shopify POS hardware
Shopify's POS hardware — card readers, receipt printers, barcode scanners etc. — are not included with your Shopify plan and you must purchase them separately.
You can buy hardware from the Shopify Hardware Store in Canada, the United Kingdom, Ireland, and the continental United States. Outside of these countries, you'll need to find an authorized reseller.
You can read more about Shopify Point of Sale here.
---
'Shopify Plus' pricing
Finally, there's the 'Shopify Plus' plan to consider. Unlike the plans discussed above, this is aimed not at SMEs, but at big businesses. 
'Shopify Plus' is an enterprise grade solution, which basically offers all the features of 'Advanced Shopify' plan plus advanced features involving security, APIs and fulfilment.
Significantly, it allows you to automate a lot of e-commerce related tasks via a visual workflow builder called 'Shopify Flow.' This facilitates the creation of 'if this then that' (IFTT) style rules which make Shopify take certain actions based on certain events (for example, if your inventory is running low, it can send an email message to a supplier etc.).
You'll find a brief video overview of 'Shopify Flow' below.
How much does Shopify Plus cost?
Pricing for Shopify Plus is negotiable, as the solution that Shopify will offer you is usually tailor-made to your requirements — but you can expect to pay at least $2,000 per month to use the service.
As you might expect given the significant costs, Shopify Plus comes with 'white glove' account management (dedicated onboarding, account management and support).
One particularly useful feature that is included with Shopify Plus involves automatic multi-currency selling. Shopify Plus can use IP addresses to automatically detect what country a user is browsing your store from, and present your product prices in the appropriate local currency.
This is a very useful feature, and it's a shame that it's not included on the other Shopify plans. You can, however, show a currency selector on other plans, or make use of third-party app such as Bold Multi-Currency to sell in multiple currencies with automatic conversion.
Another key difference between 'Shopify Plus' and the other plans is that you can use it to sell in considerably more languages: up to 20. The other plans ('Basic' and above) restrict multi-language selling to 5 stores.
Is Shopify Plus for me?
'Shopify Plus' is for (large) businesses who have
an extremely high volume of sales

a need to create very bespoke connections between Shopify and internal systems (CRM tools etc.)

a desire to automate workflows

very particular requirements regarding security and uptime

a need to sell in lots of different languages (up to 20)
a need to have fully automatic currency conversion in place

a decent budget

a need for more handholding and support

.
Click here for more information on Shopify Plus.
---
Beefing up your Shopify plan using apps and integrations
If the functionality included in your chosen Shopify plan isn't quite enough, you can enhance it by adding apps to your store.
Shopify's app store contains over 6,600 apps (both free and paid) that are straightforward enough to integrate. Some are considerably better than others though — always check out the user reviews before committing to one!
A key example of where you might want to add an app (and as touched on above) is in the dropshipping department — there are several available to help you start a dropshipping business with Shopify.
You can also use Shopify apps to integrate your store neatly with well-known productivity / business apps like Xero, Zendesk and Salesforce.
Other apps let you add more sophisticated functionality than you might find out of the box in Shopify — key examples of these include customer analytics and product options apps.
However, not all third-party services are catered for — Mailchimp being a key omission. This is due to a dispute between Mailchimp and Shopify over data protection issues. You can still use Mailchimp in conjunction with Shopify, although it will require more manual configuration now that the official integration is no more.
Although the app store represents a selling point for Shopify — it contains a myriad of apps that can be used to enhance your store — it also highlights a potential weakness of the product. Whereas with Shopify you often find yourself reaching for the app store (and your wallet) to add certain types of functionality, other platforms — notably BigCommerce — provide it as standard out of the box.
Examples of this include adding AMP functionality (which improves site speed on mobile devices), extending the number of product options you can use, automatic currency conversions or creating custom fields (to capture data such as inscriptions, dedications etc.).
On the plus side, the well-stocked app store means that you can integrate your Shopify store easily with a very large number of other popular online services.
---
Buying a pre-built Shopify store
Shopify now offers a service that allows you to buy a Shopify store.
This is called the 'Exchange Marketplace' and it contains listings of existing Shopify stores that can be purchased. The advantage of buying a Shopify store rather than building one is that it takes a lot of the effort out of setting one up and, assuming the store you buy is already profitable, can reduce the risk of making a bad investment.
Stores on the Exchange Marketplace are vetted by Shopify before they are listed, and the escrow method — where an independent third party holds the payment until both buyer and seller are satisfied with proceedings — is used to handle the buying process.
This means that you can buy a Shopify store from the Exchange Marketplace in relative confidence (although that said, it's always worth getting financial and/or legal advice before doing so).
In terms of how much buying a Shopify store will cost you, this depends on how profitable the store already is. You can spend anything from a couple of hundred dollars (for a pre-built store without a customer base) up to a few million (for a store that is generating a healthy monthly profit).
---
Free trials
I hope this discussion on Shopify pricing has helped clarify which plan is best suited to your needs. Do feel free to share it on social media, or link to it from your own site if you found it useful 🙂
If you're still undecided about which Shopify plan is going to work best for you, you can avail of a free trial of the product and select your plan at the end of your trial.
This allows you to test out the product's core functionality and work out which Shopify pricing plan might be the best fit.
You can access Shopify's free trials here.
---
Alternatives to Shopify
Shopify is by no means the only online store building platform on the market — there is a wide range of others to choose from.
BigCommerce is probably the most similar hosted solution to Shopify, offering a range of similar features at a similar price point. Check out our BigCommerce review or our BigCommerce vs Shopify post for more details.
Users who want to try out a platform that is more geared towards showcasing content than Shopify — for example image galleries, audio or video — might like to check out Squarespace, as it provides an elegant way to lay content out whilst also providing some very useful selling features. You can check out our Squarespace review here.
If you're on a budget, Wix is worth a look, as you can get started with e-commerce more cheaply with it. However, I'd view Shopify as being a product that generally leads to much more professional results. You can check out our Wix vs Shopify comparison for more information on how the two platforms stack up against each other.
Alternatively, check out our Wix review, our Wix vs WordPress comparison and our Wix vs Squarespace posts for more information on this option.
WordPress can work well as an e-commerce solution too — you'll need to integrate a plugin like Ecwid or WooCommerce with it in order to start selling online, but you can end up with a very good end product this way.
(Check out our Ecwid vs Shopify comparison for more information on how Ecwid stacks up against Shopify).
Shopify review | Shopify free trial
---
More Shopify resources from Style Factory
If you'd like to do some further research into Shopify or starting a new business online, check out some of our related resources:
Shopify reviews

Shopify vs Squarespace

Shopify vs Amazon

Shopify vs Volusion

Shopify vs Wix

Shopify vs WordPress

Shopify YouTube review

Shopify SEO

How to make an online store
For a complete list of our online store builder articles, please see our e-commerce platform reviews section.
Over to you: got any thoughts on Shopify fees?
If you've got any queries or thoughts on Shopify fees, or the product in general, we'd love to hear them!
Feel free to add a comment below — we'll do our best to answer any questions you may have on the platform.
Did you know? Our Shopify fees article is now available in French! Just visit our 'Prix Shopify' post on the Style Factory France website to access this and other key content in French.
---