Shopify vs Etsy — Which is Best?
October 25, 2021
• 0 Comment
We follow a strict honesty policy. However, to fund our work, we use affiliate advertising links on this blog.
Shopify vs Etsy — which is best for your e-commerce project? In this comparison, we walk you through the key features, pros and cons and pricing of these two well-known selling platforms — and help you choose the right one for your business.
---
The key differences between Shopify and Etsy
Shopify and Etsy are two very big names in the e-commerce world; and both platforms let put your products before a large online audience.
But they are very different tools.
There are two key differences between Shopify and Etsy to be aware of:
How you sell goods.
What you can sell.
Let's dig into these.
HOW you sell goods on Shopify and Etsy
Shopify is a DIY website building platform that lets you build your own online store.
Etsy, by contrast, is an existing online store (and a big one at that).
When you sell on Shopify, it's like renting a space where you set up your own shop — but selling on Etsy is more like selling your goods in a supermarket.
With Shopify, you'll have a lot more work to do to configure things the way you want — and find customers.
However, you'll have a LOT more control over everything.
For example, you can control:
the domain name for your store
how your brand is presented
what your store looks like
the way you sell your goods.
With Etsy, the customers are already there — but so is your competition.
To continue the supermarket analogy, hosting a store on Etsy is like having some shelf space in an aisle. Lots of customers will walk past it, but will they reach out for one of your products — or grab one of your competitors'?
Both these ways of selling online have their pros and cons — I discuss these in more depth later on in this comparison.
But first, a look at the other main difference between the two solutions: what you can actually sell.
WHAT you can sell on Shopify and Etsy
Shopify lets you sell pretty much anything — so long as it's legal to do so in the country you're based in.
By contrast, Etsy only lets you sell certain types of products:
Goods that are handmade by you.
Vintage items (products that are at least 20 years old).
Craft supplies (tools, ingredients, or materials whose purpose is for use in the creation of an item / occasion).
So, if you're not going to be selling the type of goods permitted by Etsy, then Shopify — or another e-commerce platform — is the obvious choice here.
If you are selling these types of goods, then either platform will work fine — with Etsy bringing the added advantage of an existing audience that particularly likes handmade and crafty items.
(Note: Etsy does let you sell other types of goods if you use its 'Pattern' product — more on that in a moment).
Now that we've looked at the basics of how Shopify and Etsy work, let's move onto how easy they are to use.
---
Ease-of-use
Etsy and Shopify are both designed to be easy for e-commerce newbies to start selling with.
When you sign up for an account on either platform, an onboarding process is provided that takes you through the key steps needed to start selling.
Additionally, a range of online resources and video tutorials is available to further support you.
(Shopify's are more extensive however — and some of the Etsy 'how to' videos are a bit old).
The learning curves for both platforms, whilst not terribly steep, are different, though.
With Etsy, you are basically adding listings to an existing online marketplace. This isn't quite as easy as it sounds — you'll need to give a lot of thought to copy, imagery and pricing of products; but it's a fairly straightforward process (as the video below demonstrates).
With Shopify however, you are building an entirely new website. So, in order to get your store off the ground, you will need to familiarize yourself with tasks like creating a brand, customizing templates, building web pages and mapping domains.
(And all that's before you get to adding products).
Although Shopify has been designed to facilitate this in as easy a way as possible, if you're new to web design, there is still a fair bit to learn.
Tip: our quick start guide on how to start a Shopify store helps to make the process of building a Shopify store faster and easier.
---
Control over branding / user experience
When you sell on Etsy, you are rather limited in terms of how you can present your business. You can add a logo and a banner to your storefront — but that's more or less it.
So in general, your online presence is going to look very 'Etsy-like' and you won't be able to create much of a bespoke shopping experience using the platform.
Now, because Etsy users expect a certain type of look and feel, this is probably a good thing — moving too far away from the Etsy shopping experience would probably have a negative effect on sales.
Shopify works very differently when it comes to customization: it gives you a huge amount of control over your brand and user experience.
A very wide range of templates for Shopify is available (both free and paid-for); and these can be extensively tweaked to match your branding requirements (and via CSS and HTML too, if you have the relevant technical skills).
Multi-currency and multi-lingual features in Shopify allow you to further customize the user experience — so ultimately, if you want to create a bespoke shopping experience tailored to a particular buyer persona, market or location, Shopify offers this option in a way that Etsy doesn't.
What about Etsy's 'Pattern' platform?
This Shopify vs Etsy comparison is chiefly looking at the differences between Shopify and the main, 'catalogue' based version of Etsy.
However, it's important to note that Etsy has a separate product available, 'Pattern,' that does let you create a standalone online store.
There are two ways to use Pattern. First, you can use the main version of Etsy to 'power' your Pattern store — this means adding a product catalogue to Etsy which populates your site with products (with inventory data being synced between the two platforms).
Alternatively, you can just add items directly to a Pattern store and sell these separately (i.e., these products won't appear on 'normal' Etsy). Unlike the main Etsy platform, these don't have to be handmade, vintage or crafting items.
Pattern costs $15 per month — $14 cheaper than the Shopify 'Basic' plan (the cheapest Shopify plan that lets you build a standalone website). The first 30 days of your Pattern account are free (and if you cancel before this period is up, you won't be charged).
It's important to note, however, that Pattern by Etsy lacks many of the e-commerce features provided by Shopify (for example, abandoned cart savers, multilingual selling, multi-currency features, built-in email marketing, advanced SEO and dropshipping).
That said, it's cheap and cheerful, integrates nicely with the main version of Etsy, and will suit some users.
---
Shipping and dropshipping
A particularly important area to look at when comparing Etsy and Shopify is shipping.
Shipping goods with Etsy
Given the emphasis on handmade and 'one-off' items, many Etsy merchants simply ship their own products. The platform makes this easy by allowing you to print postage labels from within the tool — you won't need to go to the post office to buy stamps!
And Etsy offers some pretty generous discounts on postage labels too. For example, you can save up to 30% on postage when you print USPS, FedEx, and Canada Post labels using Etsy.
If you don't want to ship your own goods, and you sell enough products to justify using a fulfilment service, the good news is that quite a lot of them work with Etsy — including Shipstation and, interestingly, Amazon's popular FBA service.
Shipping goods with Shopify
If you want to ship your own goods with Shopify, you can set your own shipping rates, rules and based on product weight, price, quantity and more — a very flexible range of options is available to you.
If you don't want to fulfil your products yourself, as with Etsy you can connect your Shopify store to a third-party fulfilment service.
Alternatively, you can consider dropshipping.
And speaking of that…
Dropshipping with Shopify and Etsy
Dropshipping is a way of selling goods where you don't make, store or fulfil any products. Rather, you take an order via your store, send it to a supplier, and they deliver the goods to your customer.
Now, Shopify is a much better solution for this type of online selling — and in many ways has been designed with it in mind.
With Shopify, you can connect your store to a very large number of dropshipping apps and source goods from a huge number of suppliers — there's no big investment involved.
Now, given the restrictions on what you can actually sell on Etsy (handmade items, vintage goods and craft supplies), it's probably not a surprise that it's not really a great platform for dropshipping with.
It is however possible to use Printful in conjunction with Etsy — this is a dropshipping service of sorts, which manufactures and delivers products to your customers based on images and artwork uploaded by you.
The Shopify dropshipping starter kit
If you're interested in dropshipping, I'd recommend that you take a look at Shopify's dropshipping starter kit — with this, you get 14 days of free access to Shopify plus lots of bundled resources and tools that show you how to launch a successful dropshipping Shopify store.
You can access the starter kit here.
---
Attracting customers to your Shopify or Etsy store
If you're looking for a ready-made customer base, Etsy is the winner in a Shopify vs Etsy shootout.
Because of its 81+ million customers and $1.7bn USD annual revenue, having a storefront on Etsy technically puts you in front of a large audience that spends a lot of money.
And, if you're selling handmade goods, vintage items or craft supplies, it's hard to think of a warmer, more highly relevant audience for you.
This existing customer base is the major advantage of using Etsy over an online store builder like Shopify.
That's not to say that you will encounter an immediate rush of customers the moment you start selling on Etsy — but your products will be quickly listed on a very popular platform.
And, so long as you've
identified a niche correctly
created quality product descriptions
established a strong pricing strategy
you do stand a pretty good chance of generating sales.
By contrast, when you set up a Shopify store, you are starting entirely from scratch — so to generate a customer base, you'll need to put a lot of effort into things like:
SEO
content marketing
online advertising
online PR.
This can be an expensive and time-consuming endeavour that involves a significant learning curve.
On the plus side, if you succeed in this, you will have a powerful online asset that you — more or less — control fully.
But overall, because of its ready-made customer base that you can tap into, Etsy definitely wins when it comes to the 'attracting customers' battle.
---
Local selling / point of sale
The COVID-19 crisis made online selling a sudden necessity for millions of 'physical' businesses — lockdowns meant they were forced to close their premises and embrace e-commerce overnight.
Many physical store owners turned to Shopify, and for good reason — the platform offers a very wide range of ways to sell online, facilitate Covid-safe product collection and offer local delivery services.
Now, because Shopify is a highly-customizable solution that lets you build your own website — rather than just list products — local businesses can use it to create fully-fledged digital presences that really reflect the essence of their physical store.
And by running a standalone site on your own domain — i.e., a Shopify site that lives at yoursitename.com — you can take advantage of local SEO tactics that raise the visibility of your business in your area too.
To a degree, you can use Etsy's Pattern product to cater specifically to a local audience; but in general, Etsy is more about selling niche goods to an online market.
So, if your business has a particular local focus, then due to its extensive range of SEO and customization features, Shopify is usually the better bet.
Additionally, thanks to its extensive point-of-sale (POS) features, Shopify can also be used to as a payment processor in physical locations too.
This lets retailers use one platform to manage all their offline and online sales, and keep inventory synced accurately — no matter where a sale has occurred.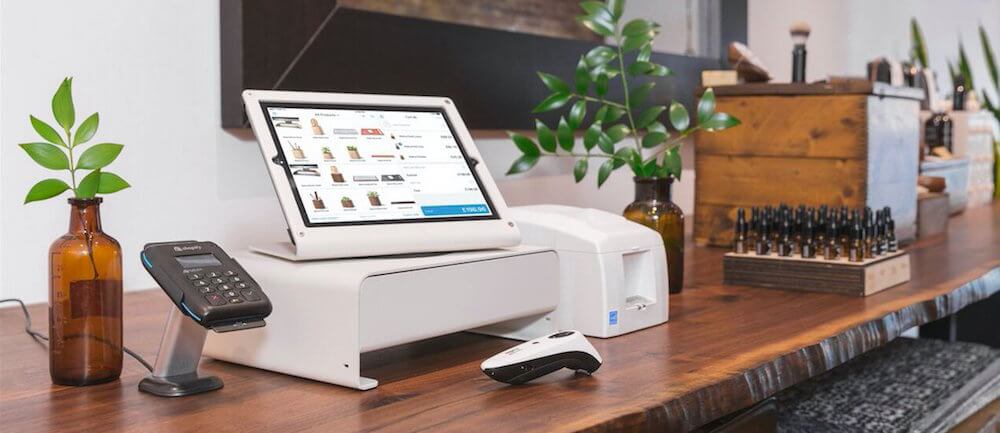 Although an integration with Square does let you use Etsy in certain point of sale contexts, this is restricted to certain countries (US, UK, Canada and Australia), the and sales hardware options are limited.
So, Shopify is definitely the stronger product when it comes to selling in person. You can learn more about Shopify's point-of-sale features here.
A way to save on Shopify
If you're interested in using Shopify, the company is currently running a time limited offer that essentially gives you a free month's service. Here's how to avail of it:
Start a trial using this link.
When your trial is over, you just pay $1 for your first month. This can amount to quite a saving, especially if you are interested in using one of the higher-tier plans.
---
SEO for Shopify vs Etsy
Whether or not you eventually choose Shopify or Etsy for your e-commerce site, making a success of it will ultimately boil down to your search engine optimization (SEO) efforts — and setting up a storefront on either platform means familiarising yourself with how two different search engines work.
With a Shopify store, the main search engine you'll need to focus on is Google — when you run your own store on your own domain, it's the main search engine that potential customers will be using to search for products like yours (Google currently handles roughly 92% of all search engine queries).
When you sell on Etsy, you've got to primarily focus on a different search engine — Etsy's own one. This works in a different way to Google's — it aims to present search results to people who are ready to buy, rather than people who might buy.
So, to get the most out of your Shopify or Etsy store, you will need to conduct quality research into the best SEO techniques for both. I'd recommend checking out our Shopify SEO guide as a starting point for optimizing a Shopify store for search engines, and Printful's guide to Etsy SEO for Etsy.
One thing to remember about Etsy stores is that unlike Shopify ones, they present you with two SEO opportunities. Not only can you optimize your product catalogue for Etsy's search engine but, since your Etsy catalogue can be crawled by other search engines too, you can get them indexed by Google too.
This means that technically, an Etsy store presents you with more opportunities to get your products in front of a search audience than a Shopify one.
Our Shopify video review
Free trial | Full Shopify review
---
Customer support for Shopify and Etsy
Shopify and Etsy both offer customer support — but Shopify offers you many more ways to get in touch, and much quicker response times too.
With Shopify, you can avail of support via phone, live chat or email — but Etsy only offers it via email.
Additionally, a response time from Etsy is typically 1-2 days!
So, if you are a technophobe and you'd like to speak to a human quickly about a problem, bear in mind that this won't be doable with Etsy.
You are basically encouraged by Etsy to use the resources provided (help pages, community forums and video tutorials) to solve your own problems. If you can't find a solution, you'll eventually get to an 'email us' link — but the process is long-winded and after all that, the response time will be slow.
By contrast, comprehensive support is a core feature of all Shopify plans and it's very easy to find contact details for Shopify's support team. A wide range of community resources / forums are also available for Shopify too.
So overall, when it comes to customer support, it's definitely a win for Shopify.
---
Shopify and Etsy pricing
We've discussed how Shopify and Etsy work, and their respective key features — now it's time to look at how much they actually cost to use.
Shopify fees
There are five Shopify plans to consider:
Shopify Lite — $9 per month
Basic Shopify — $29 per month
Shopify — $79 per month
Advanced Shopify — $299 per month
Shopify Plus — pricing varies depending on requirements.
A free trial is also available — this lasts 14 days. You can access this via this link.
All the Shopify plans give you access to core e-commerce functionality (including unlimited digital and physical product catalogues, credit cart processing, gift cards, abandoned cart recovery, discount codes and an SSL certificate).
That said, there are some important differences to watch out for between Shopify plans.
These are as follows:
The Shopify Lite plan doesn't let you build a standalone online store; rather, it allows you to sell on your existing website, on a Facebook page or at point of sale.
How many users you can have on your account varies a lot by plan. 'Basic Shopify' only lets you use two staff accounts; 'Shopify' gives you 5; 'Advanced' lets you have fifteen.
The 'Shopify Plus' plan is focused on enterprise users, and prices vary depending on needs. On this plan, you can expect advanced security, API and fulfilment features, along with account management.
Detailed e-commerce reports are only available on the $79 'Shopify' plans or higher.
Credit card fees range from 2.4% to 2.9% in the US depending on the plan you're on. (In other countries, these fees are often lower).
Transaction fees are not applied if you use Shopify Payments (Shopify's built in payment gateway). If you use a third-party payment processor, transaction fees do apply and these vary depending on the plan you're on.
Etsy fees
There are two main fees to consider in Etsy:
Listing fees — $0.20 per item
Transaction fees — 5% per item sold
You can also subscribe to a service called 'Etsy Plus,' which costs $10 per month. For this you get 15 listing credits and $5 credits for Etsy Ads per month (Etsy Ads let you advertise your products in Etsy search results and other pages).
And, as discussed earlier, you can pay $15 per month to create a 'Pattern' store with Etsy — a basic standalone, e-commerce site.
From a pricing point of view, the main advantage of using Etsy over Shopify is that it lets you avoid monthly fees; the main disadvantage is that its transaction fees are very high compared to Shopify's.
---
Using Shopify and Etsy together
Although this Shopify vs Etsy comparison has so far looked at the many differences between the two platforms, it's important to understand that you don't have to use these platforms in a mutually exclusive way.
The Shopify app store is well-stocked with integrations that let you connect a Shopify store to Etsy and list, manage and sync your products across both platforms.
Additonal fees will apply to use these integrations, but the point is that you can use them to get the best of both worlds — a brand and website of your own via Shopify, and access to a large online marketplace via Etsy.
By having a presence on both platforms, you're giving yourself the most ways to grow your business.
---
Shopify vs Etsy: conclusion
When we compare two different e-commerce platforms, our aim is usually to end up declaring a 'winner.' However, because Shopify and Etsy are quite different tools, in this case it's more useful to highlight the contexts where it makes more sense for you to use one over the other.
So, below you'll find a summary of our main reasons for using Shopify or Etsy.
Advantages of using Shopify over Etsy
Shopify is a better option for sellers who need a standalone site on their own domain.
It is considerably more customizable, and lets you create a much more 'on-brand' presence than Etsy.
It's much a considerably better platform for dropshipping.
It's a better option for small businesses in need of local selling tools and point-of-sale applications.
Shopify lets you list products on Etsy, giving you the best of both worlds.
Support is considerably more comprehensive.
Shopify's per-sale fees are lower — you'll typically pay 2.4% to 2.9% per sale, which compares very positively with Etsy's 5%.
You can access the Shopify free trial here.
Advantages of using Etsy over Shopify
Etsy puts your products in front of an existing audience comprising millions of people — with Shopify you will have to work harder to develop a customer base.
You can avoid monthly fees entirely with Etsy — but with Shopify, you're usually looking at a minimum monthly charge of $29 per month.
Because with Etsy you are simply listing your products on an existing online store, you don't really have to worry about any web design work. Using Shopify means registering a domain and setting up a brand new website.
Etsy's existing audience is one that is particularly receptive to handmade, vintage and craft goods — if you work in those niches, it's a great marketplace for you.
Etsy sellers can target 2 'search audiences' — people using Etsy's own popular search engine, and those using other search engines like Google or Bing. With Shopify you are mainly trying to appeal to just 1 search audience (i.e., users of traditional search engines).
You can learn more about selling on Etsy here.
---
Download our free ecommerce e-kit
For a limited time, we're offering our readers some excellent free tools. Sign up free to immediately receive:
our online store comparison chart
a downloadable cheatsheet on how to create an online store
our SEO, blogging and 'how to start a business' cheatsheets
extended free trials and discount codes for essential business apps
our latest tips on ecommerce and growing a business
View privacy notice.
Shopify and Etsy alternatives
When it comes to alternatives to Shopify, there's no shortage of e-commerce platforms available that claim to offer similar selling functionality.
Of these, we usually recommend BigCommerce as the most obvious alternative to Shopify; it's similarly priced and offers a broadly comparable feature set. Check out our BigCommerce vs Shopify comparison here or read our full BigCommerce review here.
Squarespace is also worth investigating — whilst its e-commerce features are not quite as comprehensive as Shopify's, it's very easy to use and comes with some outstanding templates. You can check out our Shopify vs Squarespace comparison here.
Users on a very low budget might also want to consider Big Cartel. Whilst not as fully-featured as Shopify, it does nonetheless let you build a standalone online store, and quite cheaply. You can read our Shopify vs Big Cartel comparison here.
As for Etsy, its online marketplace is fairly unique, and new businesses will be hard pressed to find a similar space where they can reach quite so many customers with an interest in creatively-produced goods.
That said, there are quite a few other online marketplaces that might still work well for your niche — Amazon and eBay are two obvious ones. (Our Shopify vs Amazon shootout might be of relevance here).
You might also like to take a look at EarthHero, an ethical online marketplace that often appeals to users of sites like Etsy.
Shopify vs Etsy…over to you!
Now — over to you! Got any questions about Shopify vs Etsy? Leave them in the comments section below — we love to hear from our readers and do our best to answer any queries you have.