Shopify vs GoDaddy — Which is Better?
September 23, 2022
• 0 Comment
We have a strict honest reviews policy. To fund our research and testing, this post contains affiliate ad links.
Shopify vs GoDaddy: which should you choose? In this detailed comparison, we take a look at both platforms and help you decide which is the best ecommerce solution for your business. Read on to learn more about both solutions' key features, pricing, pros and cons, as well as some alternatives for building your online store.
Let's begin with a key question…
---
What are GoDaddy and Shopify?
On the surface, GoDaddy and Shopify look like quite different companies, offering quite different things.
GoDaddy is best known as the world's largest domain name and website hosting company.
Shopify is famous for being one of the most popular online store builders available, used by millions of brands of all sizes to sell their products online.
However, with the addition of website building and ecommerce features to GoDaddy's service offering, you can now use both platforms to:
✓ create an online store (without coding knowledge)
✓ sell and ship products
✓ run marketing campaigns to promote your products
✓ sell products in physical locations.
I'm going to drill down into how good both products are at all this throughout the comparison.
But first, a quick look at the company history of GoDaddy and Shopify — and why this matters.
The background to GoDaddy and Shopify
Arizona-based GoDaddy was founded in 1997 as a domain registrar and, 25 years later, it's the world's biggest domain name provider — with 84 million domains registered using its service, and a staff comprising over 9,000 team members.
These days, however, GoDaddy offers a very wide range of online services — it's not just about domain names and web hosting any more. Among its newer ones, you can now use the platform to build a website or create an online store.
According to internet statistics company Builtwith.com, around 1.8 million websites and stores are currently powered by GoDaddy's website builder.
Shopify, headquartered in Canada, has been around since 2006 and its core focus has always been as an ecommerce platform for building online stores.
To date, Shopify has been responsible for the generation of over $543bn in sales for its users and is now used by millions of merchants (according to internet stats company Builtwith.com, it currently has almost 4 million online stores built on its platform). The company now has a team of over 10,000 staff members.
As you can see, both platforms have a relatively long history — and large userbases. This matters because there have been instances in the past where less-established platforms have gone out of business — leading to huge disruption for their users.
However, because Shopify and GoDaddy are both well-known, profitable players in the website building space, you can have confidence that their platforms aren't going to disappear anytime soon.
Now, let's dive into the key things you need to know about both products — starting with pricing.
---
Pricing
GoDaddy pricing
There are four monthly pricing plans for the GoDaddy website builder available:
Basic — $11.99 per month
Premium — $21.99 per month
Commerce — $24.99 per month
Commerce Plus — $44.99 per month.
The good news is that with GoDaddy, you can start building a site or store entirely for free.
On top of that, you can use your free site forever. You simply start paying when you want to avail of the features that come with the paid plans.
Additionally, GoDaddy occasionally runs discounts. At the time of writing, for US users there is a 16%-33% discount on all plans for the first year, reducing the monthly charge for the 'commerce' plan to $16.99 (see screenshot below).
All GoDaddy pricing plans allow you to:
create a site with its website builder
connect a custom domain name to your site
accept online bookings
use 'GoDaddy Payments' (USA only) to sell products in a physical store
access marketing analytics.
As you go up the GoDaddy pricing ladder, you get access to more features. 
The main differences to watch out for between GoDaddy price plans are:
Ecommerce — only the 'Commerce' and 'Commerce Plus' plans let you create a fully-functional, standalone online store.
Search Engine Optimization (SEO): the 'basic' plan does not give you access to GoDaddy's SEO features.
Recurring appointments: the 'Premium' and higher plans allow you to let users pay to attend recurring events and request email/SMS reminders for them.
Product limits: on the 'Commerce' plan, you can sell up to 5,000 products; the 'Commerce Plus' plan lets you sell an unlimited number.
Email marketing limits: this varies according to plan. The 'Basic' plan lets you send 100 emails per month; the 'Premium' and 'Commerce' plans increase this monthly limit significantly to 25,000; and the 'Commerce Plus' plan facilitates 100,000.
Although the ecommerce plans ('Commerce' and 'Commerce Plus') are technically the only GoDaddy plans that let you build an online store, it's important to note that the other plans do facilitate some online selling.
If you're selling services that don't involve a physical product (consultancy services or online classes, for example), you can do that on GoDaddy's 'Premium' plan; and you can use any paid-for GoDaddy plan to take in-person payments or send people payment requests.
But if you want to sell a catalog of physical goods on your online store, you should note that only the 'Commerce' and 'Commerce Plus' plans let you do this.
Shopify pricing
Shopify offers five pricing plans to choose from — and, unlike GoDaddy's, they all allow you to sell physical products online:
Starter — $5 per month
Basic — $29 per month
Shopify — $79 per month
Advanced — $299 per month
Plus — custom pricing depending on requirements (but fees are usually around $2,000 per month).
You can reduce these costs by paying a one-year, two-year, or three-year fee for your chosen plan upfront. Doing so will reduce your fees by 50% if you pay yearly, and paying for 2 or 3 years in advance gives you a 20% and 25% discount respectively (and, unlike GoDaddy's discount, this applies on an ongoing basis).
There is also a free 14-day Shopify trial available.
Every Shopify plan allows you to sell an unlimited amount of products, a major benefit for sellers with large inventories.
With the Shopify 'Starter' plan, however, it's important to note that you don't get to build a standalone online store. What you do get is the ability to sell your products through social media and messaging apps.
The 'Starter' plan lets you sell products via
emails
social media apps lie Facebook and Instagram
SMS
messaging apps.
You can also use the 'Starter' plan to embed a 'buy button' on an existing website (see screenshot below).
However, it doesn't let you sell products in-person at a 'point-of-sale'.
The other Shopify plans all provide you with point-of-sale selling along with full access to Shopify's store builder and its range of free or paid templates.
On the 'Basic Shopify' up to the 'Plus' plans, you'll get:
the ability to create a standalone online store
'point-of-sale' features for making in-person sales
multilingual selling features
multiple staff accounts
blogging tools.
The main differences between the Shopify plans involve…
the number of staff accounts you can have  — two staff accounts are provided with 'Basic Shopify'; 'Shopify' gives you five and 'Advanced' lets you add 15.
the extent of the reporting features — the most useful reports are only available on the 'Shopify' or higher plans.
the level of multi-currency selling features — the 'Advanced' and 'Shopify Plus' plans permit you to set your own currency conversion rates.
Most merchants will find that all the key features they need are available on the the 'Basic', 'Shopify', or 'Advanced' plans.
However, larger ecommerce businesses may be better served by the 'Shopify Plus' plan. This is aimed at more corporate users, and offers advanced security, API, multi-currency and CRM integration tools. Whole Foods Market, Polaroid and Red Bull are just some of the well-known companies to have used 'Shopify Plus' as their ecommerce solution.
(If you'd like to explore the differences between the Shopify plans further, please read our guide to Shopify pricing.)
OK, so we've looked at how much GoDaddy and Shopify cost.
But what about their features? 
Let's drill down into these, starting with something very important in website building: visuals.
How to save up to 50% on Shopify
If you're interested in using Shopify, you can save up to 50% on your subscription if you purchase your plan in a particular way. Here's how:
Start a trial using this link.
When your trial is over, choose an annual plan. This gives you a 10% to 50% discount on your Shopify plan, depending on your location.
---
Templates
Quantity of templates
Both GoDaddy and Shopify provide a wide range of templates or 'themes' that form the basis of your site's design.
Shopify offers the smaller selection — with 9 free themes and 88 paid-for premium themes on offer. The premium themes have a price range of $180 to $350.
All of the Shopify themes come in Shopify's newly upgraded template format, 'Online Store 2.0.' This new format gives you a drag and drop editor that allows you to add and move content blocks to page layouts with ease.
One thing to note is that in order to access Shopify's drag and drop builder, you have to use the 'customize theme' option (in the Shopify dashboard) rather than editing a page in the 'pages' section.
GoDaddy offers around 190 templates for its website builder. And the good news is that they are all free.
Interestingly, you don't initially choose a template for yourself when you sign up to GoDaddy. GoDaddy asks you some questions in the onboarding process and then, based on your answers, its Artificial Design Intelligence (ADI) algorithm picks a template and creates your site for you.
If you're not happy with GoDaddy's choice however, you can change your template easily (more on this later in the comparison).
Quality of templates
In terms of quality, both Shopify and GoDaddy's templates have a professional look and feel, and are based on stylish combinations of text, imagery and layout design. Both sets of templates are fully responsive — this means that your store's layout will automatically adjust itself to suit the device it's being viewed on (phone, tablet, desktop etc.).
It's a subjective area, but for me, Shopify's templates just look that bit more attractive; and in particular, Shopify's paid-for themes provide access to a more sophisticated design aesthetic than anything available from GoDaddy.
That said, GoDaddy's templates have a respectable set of design features too. Changing colors is straightforward; you can use video backgrounds on page header sections; and when it comes to text for your site, 51 typefaces are available with very easy-to-use 'font pairing' controls. 
The template section layouts all work well in GoDaddy and the lack of complex design options means that there's a minimum of fuss for the store owner.
Overall though, Shopify has significantly more design features available across its template range. More of its templates facilitate:
parallax scrolling effects 
video backgrounds
image zoom features for your products.
The bottom line on template quality is that Shopify takes the win here.
Flexibility of templates
If you want more options for styling your store's template, Shopify is the more obvious choice.
For a start, you get full control of the CSS and HTML code in Shopify — meaning you can customize your template much more extensively if you need to. While GoDaddy lets you add HTML section blocks to your pages, that won't offer enough styling opportunities for many 'pro' store owners.
Additionally, font options are considerably more extensive with Shopify than in GoDaddy. You can choose from hundreds of bundled web fonts (to GoDaddy's 51), and add your own fonts easily to your store too — this gives you total control over your store's typography.
Finally, both platforms make it extremely easy to switch between templates.
In fact, with GoDaddy's editor, this literally takes two mouse clicks and your theme is changed. All you need to do is click a simple 'try a new look' button and you'll see the changes — this can help you test different styles very quickly.
But overall, if design flexibility is a key requirement, Shopify is the better platform for you.
---
Interface and content management system (CMS)
Managing the content for your online store is a key part of running an e-commerce business, and thanks to their user-friendly interfaces, both GoDaddy and Shopify make it easy to do so. 
Ease-of-use
Both GoDaddy and Shopify's content management systems give you a drag and drop editor with which to add components to the pages in your online store.
Shopify's editor gives you significantly more content sections to build and design your store than GoDaddy's — with Shopify, you get more control over content layout, image formats and text positioning.
This means that GoDaddy's editor is the more simplistic of the two — with less options visible in any one view. On the plus side, this makes it clutter-free and intuitive (it is also visually pleasant with a 'dark mode' default design).
Both interfaces work in a similar way — with menus on one side of the screen containing controls that let you tweak your site's content. The main difference here is that the key Shopify controls are positioned on the left, and the ones in GoDaddy are positioned on the right.
Overall, the two approaches to content management are strong — with Shopify's CMS being more powerful, but GoDaddy's arguably a bit easier to hit the ground running with.
Shopify tutorial for beginners
Shopify trial | Detailed guide to starting a Shopify store | Launch checklist for Shopify
Importing and exporting content
It's very straightforward to bulk import and export products with GoDaddy and Shopify — both platforms allow you to do this using a CSV file.
However, limits apply: with Godaddy you can only add 1,500 physical products at a time by CSV, and you can't can't bulk import digital products. You can add as many products as you like via CSV with Shopify, so long as your file size is under 15MB; and for bulk importing digital products, you'll need to use a third-party app.
It's very easy to manually add products to the two platforms though — you just fill in a few fields, add an image or two, and your product is ready to go. 
When it comes to web pages and blog posts, importing and exporting is doable in Shopify by way of third-party apps (for example ExIm) — but as these are not part of Shopify's 'out of the box' offering, fees can apply.
Unfortunately, there is no similar import / export option for pages and posts available from GoDaddy.
Images and galleries
You can manipulate and edit your images easily in both GoDaddy and Shopify. Of the two platforms, GoDaddy has a slight edge here.
First, adding images to your site is extremely easy in GoDaddy. And when it comes to manipulating these images, you'll find that GoDaddy's integrated image editing program, 'GoDaddy Studio', is a very strong piece of kit — with excellent cropping, filtering, and background removal tools built in.
There's also a handy image background removal tool built into GoDaddy – this can help improve the appearance of products that have been photographed against 'busy' backdrops.
Second, resizing images so they display perfectly is a delight in GoDaddy's designer. All you have to do is click on the image on the canvas, which opens up the resizing and scaling controls in the side menu. You can then change the fit or scale of your image through different ratios or by dragging a slider. It's really very useful.
Now, Shopify also has an image editor and, for the most part, it gets the job done. It's just not quite a slick as GoDaddy's.
When it comes to galleries for displaying multiple images on your site, GoDaddy provides 10 types of gallery out of the box that will cover most use cases for basic stores. 
Out of the box, Shopify lets you add collages, banners and slideshows to pages which allow you to display multiple images in a reasonably flexible way. If these don't meet your requirements, Shopify's app store gives you access to over 228 gallery apps (many of them free).
So overall, if you want a big range of options for image galleries, Shopify is the better choice. But when it comes to editing your images, it's a win for GoDaddy.
Blogging
Blogging is an excellent way of making people aware of your ecommerce business. High-quality blogging can help your site perform well in search results, as well as drive people into your sales funnel and convert them into customers.
You can add a blog to your site in both GoDaddy and Shopify, and both platforms provide a similar level of blogging functionality — it's a draw in this department.
The main limitation of both platforms' blogging features involves categorization — whereas professional blogging platforms like WordPress let you use categories, tags and custom post types, and allow you to manipulate and display your blog content in all sorts of wonderful ways, GoDaddy and Shopify limit you to either categories (GoDaddy) or tags (Shopify).
The features on offer will be fine for most users, however.
Version history and backups
When it comes to backing up your store, GoDaddy provides the better features. 
Firstly, GoDaddy's platform automatically saves changes to your site for you — unlike with Shopify, you don't have to hit save all the time to save your content.
What's more, if you make significant changes to your site, GoDaddy immediately creates a full backup for you (you can also do this manually if preferred). It's very simple to revert to a previous version of it.
With Shopify, by contrast, you basically have to use a third-party app to back up your store.
So it's a win here for GoDaddy.
Managing media
Managing your media can be done easily in both GoDaddy and Shopify.
With Shopify, you'll find your media in the 'files' section of your store admin. You're allowed 250 images per product; and your image files must be no more than 20MB in size.
For product videos, you can either make use of embedded files — for example YouTube or Vimeo videos — or upload your own videos.
Limits apply to how many videos you can upload to Shopify, but these are generous. Even on the 'Basic' plan, you can upload 250 1GB videos to your store.
With GoDaddy, your media lives in the 'media library'. You're only able to add 10 images to any one product (with a maximum file size of 10MB per image applying). For video, there is a 5GB limit for your entire store.
So overall, when it comes to product media, Shopify is the more flexible choice.
Mobile apps
Shopify and GoDaddy both give you ways to manage your store on the go, via their mobile apps.
GoDaddy has multiple apps that relate to its broad portfolio of business activities, but the one you'll need for managing your site is simply called 'GoDaddy'.
You should note however that this app is currently only available in the US.
The GoDaddy app allows you to comprehensively track site activity and product orders from your phone. It works seamlessly with GoDaddy Payments — GoDaddy's built-in payment processor — and it also offers almost all of the functionality of the desktop version of the website builder.
User reviews of this app are mostly positive — the Android version is rated 4.2 out of 5, while iOS users rate it almost full marks, with 4.8 out of 5 in the Apple store.
Like GoDaddy, Shopify provides several apps, but the two main ones you'll need most for managing your store on the go are 'Shopify' and 'Shopify Point of Sale.'
The main 'Shopify' app lets you perform basic e-commerce tasks — view orders, perform inventory management etc. It is currently rated 4.6 and 4.1 out of 5 on the Apple and Google Play app stores respectively.
The 'Shopify POS' app lets you use the Shopify point-of-sale system to sell goods in a physical location and sync your inventory with your online store. 
This is less of a hit with Android users — its current rating on the Google Play store is 3.6 out of 5. Many complaints mention connectivity problems.
However, iOS users give it a higher score of 4.5 out of 5.
---
Ecommerce functionality
If you're comparing GoDaddy against Shopify, you are probably especially curious about which of these products is the better option for selling online.
So, let's compare their e-commerce features and find out — starting with payment processing.
Payment gateways and transaction fees
To process payments on an online store, you need a 'payment gateway'. This is the software that verifies credit card details and takes payment using them.
Both GoDaddy and Shopify offer their own, built-in payment gateways: 'GoDaddy Payments' and 'Shopify Payments' respectively. 
GoDaddy Payments charges a credit card processing fee of  2.3% + 30c per transaction; Shopify Payments fees vary by plan and by country (in the US you can expect to pay between 2.4%+30c to 2.9%+30c for online payments).
However, Shopify Payments is available in considerably more countries than GoDaddy Payments — the latter is limited to use in the USA for now.
The alternative to using the built-in payment processing options in GoDaddy and Shopify is to make use of an external payment gateway. As with the built-in options, external payment gateways charge a percentage fee of every transaction made through your online store (and some charge a monthly fee, too).
Now, GoDaddy only offers integration with three external payment gateways — Paypal, Stripe, and Square. (And Square only works for users in Australia, Canada and the UK.)
Shopify works with many more, however — over 100.
The key thing to watch out for here is the fact that you'll pay an additional fee to Shopify for every transaction processed by a third-party payment gateway — this ranges from 0.5% to 2.0%, depending on your plan.
By contrast, GoDaddy does not charge you or take a cut of your sales in addition to the charges you pay for your payment gateway.
The takeaway here is that Shopify offers much more flexibility around payment gateways — but that this comes at a price.
Product options and variants
You can sell an unlimited number of products on every Shopify plan. GoDaddy caps the number of products you can sell at 5,000 on its 'Commerce' plan, but lets you sell an unlimited number on its 'Commerce Plus' plan.
In terms of the number of product options and variants you can use, the two platforms are identical. They both allow you to make use of 3 product options and 100 variants.
(Product options are things like size, material and color. Variants are combinations of those options — for example a red leather shoe would count as one variant, a blue suede shoe would count as another, etc.).
Thanks to Shopify's app store, it is possible to extend these limits fairly easily by adding third-party apps to your store ("Infinite Options" being a popular choice). It's not really possible to do this with GoDaddy, however.
Overall, the standard 'out of the box' offerings from GoDaddy and Shopify will cover most store owners' requirements when it comes to product options and variants — but some merchants may find them a bit restrictive.
There are other platforms out there with more generous approaches to product options and variants. For example, Squarespace allows 6 product options and 250 variant combinations. With Ecwid, there are no limits to product options at all — providing sellers with big option sets far more freedom without having to pay extra or seek workarounds.
Selling digital products
Both GoDaddy and Shopify let you sell digital products easily.
GoDaddy treats digital products no differently to physical products (so if you're on its 'Commerce' plan, you should note that they form part of your 5,000 product limit).
And the process for adding a digital product to your store is largely the same as when adding a physical one.
GoDaddy allows you to bundle 10 separate files into each digital product, with a 2GB limit per file applying. This adds up to a very generous file size limit of 20GB per product.
In Shopify, there is a quick step to take before you can add your digital products to your store — you have to add its free 'Digital Downloads' app.
In terms of file size limits, Shopify permits selling files up to 5GB in size.
You'll find an additional range of digital download apps available through the Shopify app store for further functionality. 
For example, the SendOwl app lets you stamp PDF files with your customer's name — a great way to reduce fraud. It also lets you 'drip release' digital products to your customers over time, and it even gives you a brandable video player that your customers can use to stream files with.
The Sky Pilot app lets you bundle digital and physical products together, and sell files of up to a massive 5TB in size.
Overall, both platforms will cater to most sellers' needs for getting their digital downloads out there — with Shopify giving the extra capability for digital download specialists through its app store enhancements. GoDaddy wins when it comes to 'out of the box' file size limits, however.
Shopify and non-fungible tokens (NFTs)
Interestingly, in addition to letting you sell regular digital files, Shopify is now beta-testing some functionality for minting and selling non-fungible tokens (NFTs).
(This functionality is restricted to US-based Shopify Plus merchants only.)
NFTs are 'unique', gated files that can't be replaced; and they can represent anything digital — art, animated stickers, music, video and more.).
There isn't currently a similar feature from GoDaddy available.
Abandoned cart features
Abandoned cart functionality allows online sellers to identify and communicate with customers who add a product to their shopping cart but don't complete the checkout process. 
Both GoDaddy and Shopify provide abandoned cart features that allow you to send an automated follow-up email to visitors who don't complete a purchase (you can include a discount code in this message to encourage them to do so). Setting this up is easy in both platforms.
Shopify includes this feature on its $5 'Starter' plan and all higher plans. With GoDaddy, you only have a cart if you're on its $24.99 or 'Commerce' $44.99 'Commerce Plus' plans — so technically, you can get access to abandoned cart features for less with Shopify.
While you're here…have you seen our Shopify video review?
Full Shopify review | Free trial
Point of sale functionality in Shopify vs GoDaddy
Point of sale (POS) features let you use your online store to sell in physical locations like festivals, pop-up shops and brick-and-mortar stores.
POS hardware includes card readers, barcode scanners and cash registers; these enable you to take payments in person whilst keeping your inventory data fully up to date in your ecommerce website's back end.
With GoDaddy, if you are based outside the US, you'll have to use POS equipment provided by one of the platform's three payment gateway providers (Paypal, Stripe, and Square).
However, GoDaddy merchants in the US can make use of GoDaddy's own POS hardware (card readers and screen terminals are available). US users can also use GoDaddy's mobile app as a 'virtual terminal' for accepting card payments on a phone or tablet.
The costs for GoDaddy's POS hardware are as follows:
smart terminal — $249
card reader — $49.
It's worth pointing out that GoDaddy's POS system can be used on any of its four website plans. You don't actually need to be on the 'commerce' plan to start selling in person.
As for Shopify, it has been a POS leader in the ecommerce world for many years. So there is a much wider range of POS hardware on offer from Shopify than from GoDaddy, and you can use it in a lot more countries.
Some of the key pieces of hardware on offer includes:
card readers — $49
cash drawers — $139-$159
scales — $40-$89
receipt printers  — $299-$369
tablet stands — $99-$219
printed gift card sleeves — $59 for 200 cards.
The bad news is that to make the most of some of Shopify's more sophisticated POS features, you will need to add its 'POS Pro' add-on.
This allows you to use unlimited registers, facilitate exchanges, attribute sales to staff members and do much else besides, but at a fairly high cost — 'POS Pro' is priced at $89 per month per location.
However, for simple POS applications, the built-in point-of-sale features ('Shopify POS Lite') will be more than adequate for most.
So, all in all, Shopify has the stronger POS offering — it has more hardware, and it's available in more locations.
Shipping
When it comes to shipping your products to your customers, Shopify is a little bit more flexible than GoDaddy. It allows you to set:
free shipping rates
flat rates
price-based rates
weight-based rates
calculated ('real time') shipping rates.
GoDaddy lets you provide:
free shipping
flat rate shipping
weight-based shipping
calculated shipping.
(Both platforms also allow you to provide in-store pickup options to your customers.)
Shopify has an edge when it comes to how calculated carrier-based shipping works. This is because its built-in 'Shopify Shipping' service not only facilitates real-time shipping quotations, but gives generous discounts to users based in the US, Canada, Australia, UK, France, Italy and Spain — up to 88%.
GoDaddy also provides some shipping discounts, but only to US users via USPS, and only if you have a Shippo account.
Additionally, Shopify gives you — for an additional fee — the option to use your own third-party carriers for calculated shipping rates. This feature works in any country, whereas GoDaddy's realtime shipping features are limited to the US, Brazil and Canada.
Dropshipping
Dropshipping is a way of selling where you take an order, send it to a supplier, and they deliver the product to your client — you don't make, store or fulfil any goods, which can reduce outlay enormously. This makes it a very popular online selling technique.
Shopify provides a very large number of integrations with dropshipping companies through its app store (which we'll discuss shortly) — 484 dropshipping-related apps are currently available.
With GoDaddy, whilst it's technically possible to dropship through its platform (you could simply accept orders and pass them onto a supplier of your choice), there are no dedicated dropshipping features that automate or simplify the process.
So, if you want to set up a dropshipping business, the better option here is definitely Shopify — it gives you everything you need to source and supply dropshipped goods.
The Shopify dropshipping starter kit
If you're interested in dropshipping, I'd recommend that you take a look at Shopify's dropshipping starter kit — with this, you get 14 days of free access to Shopify plus lots of bundled resources and tools that show you how to launch a successful dropshipping Shopify store.
Personalising products
One area where GoDaddy has a definite advantage over Shopify involves how it lets you personalize products.
Its 'product add-on' feature allows you to create bespoke form fields to grab specific information from your customers relating to individual products in your store. This is very useful for sellers providing personalizable products like engraved jewellery.
To add an equivalent personalization field in Shopify, you'll need to do some coding or make use of a third-party app.
So a win on this front for GoDaddy.
Multi-currency selling
Displaying prices and facilitating checkout in your store visitors' own currencies can improve sales rates considerably.
So, how easily can you do this with GoDaddy and Shopify?
Well, on a GoDaddy store, your options for displaying different currencies are very limited.
Whilst GoDaddy does work with 18 different currencies, you can only choose one to use on your store. This is fine if you only ever intend to sell your products in one market, but if you have ambitions to sell in multiple territories, it's not ideal.
That said, GoDaddy can assist you with making international sales so long as you are based in the US, and if you use one of its marketplace integrations. GoDaddy integrates very neatly with:
Amazon
Etsy
Ebay
Facebook
Google Shopping 
Walmart.
(If you're in the UK and Australia, you currently only get access to the eBay integration; but access to the Amazon one for users based in those countries should be arriving later in 2022. Canadian users currently get access to Amazon and eBay integrations).
When your products show up in these marketplaces, they are automatically shown in the currency of the visitor visiting the marketplace. 
Now, multi-currency selling with Shopify — while not perfect — is far better.
Its new 'Shopify Markets' feature lets you define selling areas — based on countries — and associate specific currencies and languages with them. If a user is in a particular market, they will be prompted to switch to the currency you've defined for that market.
(Note that if they go on to make a purchase in that currency, a 1.5% to 2% currency conversion fee will apply to the sale, depending on whether the user is based in the US or outside it respectively).
If this 'prompt approach' doesn't appeal, you have the option of using a third-party app to give your store fully automated currency conversion — where instead of nudging your site visitors to change currency, your store just does it for them based on their IP address. There are quite a few apps in the Shopify app store that provide this functionality.
(Alternatively, and if you have deep pockets, you could subscribe to a 'Shopify Plus' plan, which includes fully automatic currency conversion).
Finally it's worth noting that the 'Shopify Markets' feature only works if you are a Shopify Payments user, and you can only set custom prices for particular markets if you are on an 'Advanced' or 'Shopify Plus' plan — both of which are expensive.
So there's room for improvement here, but in the context of a GoDaddy vs Shopify shootout, when it comes to multi-currency selling, Shopify is the winner.
Multilingual selling
Of the two platforms under review, only Shopify lets you sell in other languages. All plans let you sell in up to 20 languages (again as part of the new 'Shopify Markets' feature).
When you create a version of your Shopify store site in a new language, its domain  will end with a folder reference to the language in question—  myshop.com/fr/ for French etc., myshop.com/de/ for German etc. If you prefer, you can use country level domains too (i.e., myshop.fr or myshop.de).
Unfortunately for GoDaddy users, there is no multilingual functionality available at all — so it's another clear win for Shopify here.
Tax calculations
Automatic tax calculation is another area where Shopify offers the better features.
WIth Shopify, most users can avail of automatic tax calculation for their products — and on all plans too. Figuring out individual tax calculations can be massively time intensive, so Shopify's tax calculation feature is a great asset for online sellers.
If you're on its 'Commerce' plan GoDaddy requires a manual sales tax setup process for each and every product in your store.
However, with the introduction of its 'Commerce Plus' plan, GoDaddy now offers automatic tax calculation for merchants based in the US, Canada, Australia in Europe.
Shopify has a particular advantage over GoDaddy when it comes to applying tax rates to digital products — especially where EU customers are concerned.
In the EU, digital products are subject to a tax called VAT MOSS (Value Added Tax Mini One Stop Shop). This requires sellers of digital products to consumers in the EU to apply tax on these products on a country-by-country basis.
Shopify automates the calculation of VAT MOSS on digital products via its free 'Digital Downloads' app. With GoDaddy however, it's a matter of entering the relevant rate for each EU state, one at a time.
Analytics
If you're running an ecommerce business, understanding how your users behave and interact on your site is absolutely essential. 
Now, it's relatively easy to set up Google Analytics with both GoDaddy and Shopify — allowing you to get to know your customers' behavior and measure all sorts of traffic data.
But what about the analytics features each platform provides 'out of the box'?
Well, GoDaddy provides you with a personalized analytics tool called 'GoDaddy Insights'. This 'smart tool' provides you with statistics on:
the number of site visitors
the number of sales through your site
social media effectiveness
customer engagement
reviews of and comments on your company.
On top of all that, GoDaddy Insights makes industry-specific recommendations based on data from competitors in your sector.
These recommendations come in the form of an action plan; you also get an 'insight score' out of 100 which lets you know how your site compares against those of your competitors. All this is very useful for store owners who lack experience in digital marketing and website analytics.
With Shopify you can access a very extensive range of reports on your site activity, sales and customers.
These include:
finance reports
sales reports
customer reports
acquisition reports
behavior reports
custom reports.
There's a catch however: standard reports are only available on the $79 'Shopify' plan and higher. And to access custom reporting you'll need to be on an expensive 'Advanced Shopify' or 'Shopify Plus' plan. 
If you're new to ecommerce, you may find GoDaddy's smart reporting assistant a less intimidating way to get to grips with analytics for your store — it makes analytics a bit like playing a game.
However, for more professional reporting functionality and a greater range of options with which to crunch your data, the better choice (albeit at a more expensive price) is Shopify.
---
Integration with other apps
A key difference between GoDaddy and Shopify is the extent to which you can integrate the platforms with third-party tools, or add bespoke functionality to your store.
Now, it's fair to say that GoDaddy provides a lot of built-in functionality for design, marketing, payments, bookings, shipping, and SEO. It provides excellent integrations with the biggest online marketplaces. And, when it comes to social selling, it covers several of the main bases like Facebook, Instagram, Twitter and Google.
For a lot of merchants, this will be perfectly sufficient.
But unlike most other popular e-commerce solutions, GoDaddy doesn't have an app store that lets you buy add-ons that increase your store's functionality, or integrate it with other tools and services.
Not only is GoDaddy lacking an app store, but it also lacks any clear way to integrate with tools outside the GoDaddy platform. A particular omission here is the lack of an official integration for Zapier — a 'syncing' tool that lets apps work together, even when official integrations for them don't exist.
The opposite is true of Shopify. Its app store offers around 8,000 apps that allow you to integrate the platform with a wide range of other services and add additional features to your store.
This provides sellers with a lot more versatility when it comes to things like:
email marketing campaigns
dropshipping
reporting 
customer service.
In addition to the apps in the Shopify app store, Shopify also works with Zapier — adding over 5,000 integrations and automations to proceedings.
The bottom line is that Shopify gives ecommerce site owners significantly more access to tools and integrations with which to sell or promote their products than GoDaddy.
---
Forms and data capture
Both GoDaddy and Shopify provide the option to add data capture forms (contact forms, newsletter forms etc.) to your store. 
However, despite Shopify's recent 'Online Store 2.0' update, the options for customizing forms on the platform remain fairly limited — you're largely stuck with using default 'contact form' style fields — unless you resort to coding, or purchasing a third-party app (of which, to be fair, there are many).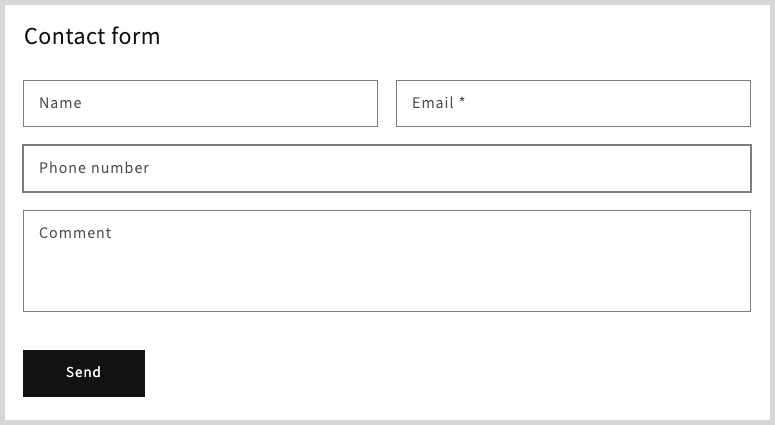 GoDaddy, on the other hand, does allow you to add custom fields easily enough using its form designer.
The key difference in the two platforms' approaches to data capture is that Shopify enables you to send your data to more places; its app store provides integrations for key email marketing campaign tools like GetResponse, AWeber, Mailchimp and Campaign Monitor.
With GoDaddy, your form data is just sent to your store account — you can only really make use of it via the built-in GoDaddy marketing tools.
So, it's fair to say that both platforms could provide a bit more 'out of the box' functionality when it comes to building custom forms. Several other ecommerce platforms, Wix and Squarespace to mention two, offer more 'bespoke' form creation options without a need for coding or help from third-party apps.
---
Email marketing in GoDaddy and Shopify
A key part of running an ecommerce website is email marketing — sending e-newsletters to your mailing list is one of the best ways to generate sales.
So, in common with a lot of other ecommerce platforms, both GoDaddy and Shopify now offer built-in email marketing tools.
Both companies' offerings here are fairly similar in terms of functionality — you can use them to send basic but professional-looking newsletters promoting your products, and this will suit a lot of merchants perfectly well.
However, if you're looking for the sort of advanced autoresponder capabilities or marketing automation features that tools like AWeber and Mailchimp provide, you won't yet find available in either platform yet.
(That said, Shopify is improving on this front, increasingly offering more automation and trigger-based emails).
The main difference to focus on between the two platforms' out-of-the-box email marketing tools is less about functionality, and more about the send limits: Shopify lets you send up to 10,000 emails per month for free, with a $1 fee applying to every additional 1,000 emails sent after that. GoDaddy is more generous: on its 'Premium' plan, you can send up to 25,000 emails per month.
The other thing worth noting is that while GoDaddy's email marketing tool is firmly baked-in to its interface, using Shopify email marketing requires installing a free app — the appropriately named 'Shopify Email.'
So compared to Shopify, I'd say that GoDaddy has the edge when it comes to built-in email marketing features — they are more generous in terms of send limits, and more easily accessible. However, because you can hook Shopify up to most email marketing platforms (which is not the case with GoDaddy) you could argue that Shopify ultimately offers more options when it comes to email marketing.
---
Search Engine Optimization (SEO)
SEO is a vital part of e-commerce — without organic traffic, you're going to suffer from a sales perspective. So how do GoDaddy and Shopify stack up on this front?
GoDaddy SEO 
Like many of GoDaddy's website and store builder's other features, the SEO tools on offer from the platform are aimed at relative beginners.
GoDaddy's builder does certain important SEO things well — it provides:
a free SSL certificate for every site, giving your site a secure, https:// connection (something Google is very keen on)
an automatically generated XML sitemap (this helps search engines crawl and index your pages more easily)
fully responsive, mobile-friendly templates (Google's preferred approach to web design)
an easy way to edit page meta descriptions (the site descriptions that appear in search results)
access to 'alternative text' tags for images (these help search engines — and people with a visual impairment — understand your content better)
a 99.9% uptime guarantee for your site.
A particularly useful aspect of GoDaddy's SEO feature set involves keywords.
The built-in 'optimization wizard' — available on the standard plan and higher — provides some very accessible step-by-step assistance for working on your site's keywords and on-page content, looking at your content and making keyword suggestions for you automatically.
In effect, it helps ensure that first-time store owners are (possibly without realizing it) optimizing page and product content across their site.
However, there are a few major limitations to GoDaddy's SEO features:
There's no access to the code of your template (thus making it hard for you or a develop to customize your site in a way that will meet Google's new Core Web Vitals requirements).
GoDaddy provides limited editing of page URLs (Google looks at URL structure when categorizing content).
You don't get any control over 301 page redirects (these are used to tell search engines what to index if an existing page gets renamed or deleted).
These omissions are not at all ideal and have the potential to hold you back from an SEO perspective.
Shopify SEO
Unlike GoDaddy, Shopify allows you almost complete freedom when it comes to  your site's SEO. The platform lets you configure just about any SEO element, including URL, redirects and page titles.
And if you want to improve your site's loading times and visual stability (two of Google's Core Web Vitals criteria), you can do this more easily in Shopify — either by modifying your site code or by using using an app from the Shopify app store to help you.
Another additional SEO benefit of Shopify is the fact that you can use AMP — Accelerated Mobile Pages format (albeit with the help of an app).
AMP format generates a stripped-down mobile version of your site that helps it load faster — and, as Google rewards faster-loading sites, being able to make use of this technology can be a big plus.
And speaking of loading speed, another useful feature in Shopify is its 'site speed' report. This dashboard-style report compares your site to similar stores in order to analyze where you can make improvements.
All in all, Shopify has a significant edge over GoDaddy when it comes to SEO.
Hiring GoDaddy to do your SEO
One thing about GoDaddy that might appeal to SEO novices is that you can pay GoDaddy to optimize your site for you via its 'SEO Services' offering. Pricing for this bespoke one-to-one SEO service is negotiated based on your SEO needs. 
Some store owners will be happy to hand-over their SEO work to GoDaddy. But as discussed above, if you want to do it all yourself, you'll find that the technical SEO features of GoDaddy are relatively basic in nature.
---
GDPR compliance
Please note: I am not a lawyer, so the commentary below should not be taken as legal advice. For expert legal advice on GDPR and your ecommerce site, it is best to consult a lawyer.
The General Data Protection Regulation — GDPR for short — places legal obligations on website owners with regard to the privacy and data rights of EU customers and site visitors. (Similar laws exist in California and many other territories.)
The GDPR requires:
safe and secure processing of customer data
clearly-displayed privacy policies
explicit consent to be given for mailing lists and newsletters
consent to be given before non-essential cookies are run (for example Facebook pixels, Google Analytics tracking code etc.).
It's not too difficult to meet most of these requirements with GoDaddy or Shopify — but  GoDaddy deals with the cookie consent issue better than Shopify, giving you easy access to a banner that lets your users accept or decline the use of non-essential cookies.
(However, one thing to note is that it is not clear how a visitor to your GoDaddy site can 'revoke' consent once he or she has accepted your cookies — and giving your users the ability to do so is also a GDPR requirement).
Unfortunately, no built-in GDPR compliant cookie banner available in Shopify — to get one you'll have to head over to the app store. There you'll find over 100 cookie banner apps, with the paid-for apps offering more complex functions and a greater degree of compliance.
Considering that the GDPR has been in effect for over three years at this point, I personally feel that Shopify should offer a built-in cookie banner solution — ideally one that doesn't require store owners to customize code or pay extra.
So as things stand it's a bit of a win for GoDaddy here.
---
Customer support
Both GoDaddy and Shopify offer comprehensive customer support.
GoDaddy provides live chat and phone support across all its plans. Phone support is 24/7 in most regions (live chat is 24/7 in all) and locating the company's contact number couldn't be easier — you'll find it under the 'contact us' option in the main menu.
In addition, GoDaddy provides a support account on Twitter, Whatsapp support in some regions, 24/7 SMS support in the US and a range of help center articles and video tutorials.
(A quick word of warning about GoDaddy's help pages, however: be sure that the help article you access is actually for the GoDaddy website and store builder tool. It's quite easy to discover you're reading an article that relates your search term but is actually about an entirely different GoDaddy product!)
As for Shopify's customer support, you can avail of 24/7 live chat, 24/7 phone support and email.
In terms of the phone and email support, finding the Shopify contact details is only possible once you've already searched for an answer in the help center search facility. This makes GoDaddy the more immediately 'contactable' company of the two.
Finally, with GoDaddy, if you have a problem with your template, you're pretty much guaranteed to get the answers from its support team directly. However, with Shopify, this is not always the case. For support with many of its paid-for templates you may have to contact the theme developer directly.
Overall, both Shopify and GoDaddy offer comprehensive support options — with GoDaddy being the more easily contacted of the two, but with Shopify offering more support channels.
---
Shopify vs GoDaddy: the verdict
Ultimately, in a Shopify vs GoDaddy comparison, it's hard not to conclude that Shopify is the more powerful of the two platforms. Its much wider range of selling tools lets you create a more sophisticated, bespoke online store; and its multilingual and multicurrency features give you the scope to scale your ecommerce business internationally in ways that are not possible with GoDaddy.
Whereas GoDaddy is geared mainly towards solopreneurs and small business owners, the Shopify platform caters for a much wider range of business types.
If you're an absolute e-commerce beginner that only needs to sell online in one currency and language, there is nonetheless an argument for choosing GoDaddy: its user-friendliness, all-in-one nature and its cheaper pricing may appeal.
But for professional merchants, or those with ambitions to grow a significant online business, Shopify is unquestionably the better option.
I'll sum up with some key pros and cons of both platforms — and the reasons why you might choose Shopify or GoDaddy as the solution for your ecommerce project.
Reasons to use GoDaddy over Shopify
You can use the platform entirely for free.
Building a standalone online store costs less money with GoDaddy, and there are less hidden charges to worry about.
All its themes are free — most of Shopify's range are paid-for.
GoDaddy ecommerce features are really easy to use — novices may find the platform easier to hit the ground running with.
It's easier to capture custom data for personalized products with GoDaddy.
Its email marketing send limit is considerably more generous than Shopify's.
Backup and revision history features are included with GoDaddy, but not with Shopify.
Its image editing tools are more powerful than Shopify's.
It provides a built-in GDPR-compliant cookie banner tool; Shopify doesn't.
GoDaddy doesn't apply transaction fees when you use a third-party payment gateway; Shopify does.
If you like that feeling of having 'everything under one roof', GoDaddy's platform may appeal.
Reasons to use Shopify over GoDaddy
You can sell an unlimited number of products on any Shopify plan — but you'll need to be on the most expensive 'Commerce Plus' plan to do this with GoDaddy.
You can sell online in multiple currencies and languages with Shopify; this is not really possible with GoDaddy.
Shopify is a considerably stronger option for dropshipping.
Its SEO features are much better than GoDaddy's.
Shopify's app store makes it easy to integrate the platform with a huge number of other services; GoDaddy doesn't really offer anything comparable on this front.
Because it works with more external payment gateways, you can use more payment methods with Shopify.
Shopify's reporting features are considerably more extensive than GoDaddy's.
Design customization options are far more extensive in Shopify than in GoDaddy.
You can connect a Shopify site to most of the major email marketing apps; GoDaddy restricts you to using its built in email marketing option.
The point-of-sale features in Shopify are considerably stronger.
Full HTML and CSS access is available in Shopify.
Shopify's automated sales tax features are excellent; none exist for GoDaddy.
---
Alternatives to GoDaddy and Shopify
GoDaddy and Shopify aren't the only ecommerce platforms available — there are lots of other ecommerce tools and website builders to consider!
A key alternative to GoDaddy and Shopify is BigCommerce — like Shopify, it's a dedicated ecommerce platform, rather than a more 'general' website builder, and accordingly it has a much larger set of ecommerce features than GoDaddy – more tools to help you build a truly professional store.
(And, arguably, it boasts more 'out of the box' selling features than Shopify too.)
Read our BigCommerce vs Shopify comparison and our BigCommerce review to find out more about this platform.
BigCommerce vs Shopify video comparison
BigCommerce trial | Shopify trial | Full BigCommerce vs Shopify comparison
Rather than using a hosted platform to set up an ecommerce store, an alternative way of selling online is to use an established online marketplace like Amazon or Etsy. You can read more about doing this in our Shopify versus Etsy and Shopify versus Amazon comparisons.
If you're not really focussed on ecommerce and you want to build a general-purpose website, it's worth taking a look at Squarespace and Wix — two website builder platforms that combine a good range of ecommerce features with more general website building tools. Check out our Wix review here; read our Squarespace review here; find out about the differences between Shopify and Squarespace here; and learn about the Squarespace free trial here.
Our Squarespace video review
Squarespace free trial | Full Squarespace review
Wix vs Shopify video comparison
Wix free trial | Shopify free trial | Full Wix vs Shopify comparison
WordPress is another great option for building an ecommerce website — but depending on whether you use the hosted or self-hosted version, you may need to factor in a bit more configuration or development time if using this platform. Check out our Shopify vs WordPress post and our Wix vs WordPress posts to see how it compares to popular hosted website builders.
Shopify vs WordPress video comparison
Shopify trial | WordPress download | Shopify vs WordPress comparison
Squarespace vs WordPress — our video comparison
Squarespace free trial | WordPress free download
Finally, you could consider Big Cartel as a budget option — it lets you sell up to 5 products completely free. You can read our Big Cartel vs Shopify comparison here or our full Big Cartel review here.
Shopify vs GoDaddy FAQ
Can I use GoDaddy and Shopify for free?
Yes. GoDaddy offers an entirely free plan, and Shopify offers a 14 day free trial.
Which is easier to use, GoDaddy or Shopify?
Thanks to its more simplistic interface, GoDaddy is arguably easier to use than Shopify. However, this is partly because it has many less selling features.
Is GoDaddy good for ecommmerce?
The main argument for using GoDaddy as your commerce platform is that it is cheap, very easy to use and comes with a good range of basic selling tools. However, it lacks many 'pro' features that you'd find in dedicated e-commerce platforms like Shopify, including the option to sell in multiple currencies and languages. And due to its lack of an official app store or Zapier integration, it's hard to get GoDaddy to integrate with other key e-commerce applications.
Is it easy to switch from GoDaddy to Shopify?
How complex a job this will be will depend largely on on how many products you have in your store, and how much other content you have on your site — but in most cases, switching from GoDaddy to Shopify is pretty straightforward. You will need to export your products to CSV format first (for import into Shopify), and copy and paste any pages blog posts you want to move across.
Shopify vs GoDaddy: over to you!
Got any thoughts about Shopify vs GoDaddy? Or any questions we can help with? Just leave a comment below.