Wix vs Squarespace — Which is the Best Website Builder?
August 14, 2021
• 0 Comment
We follow a strict honesty policy. However, to fund our work, we use affiliate advertising links on this blog.
Wix vs Squarespace — which is best? In this comparison, I take an in-depth look at two of the web's most popular tools for building a website or online store, and help you choose the right website builder for your project.
---
At a glance
| Top reasons to use Wix | Top reasons to use Squarespace |
| --- | --- |
| A totally free plan is available | Responsive, mobile-friendly designs |
| More templates | Easier to use |
| More e-commerce features | Template wow factor |
| Free email marketing | Better SEO features |
| Phone support | More import/export options |
| Free trial of Wix | Free trial of Squarespace |
---
In this Wix vs Squarespace deep dive, you'll learn:
what both tools can do
how easy they are to use
what their key pros and cons are
how much they cost to use
what the best alternative website builders are
Let's start with a key question…
---
What are Wix and Squarespace?
Wix and Squarespace are website building tools that are aimed at people who want to create and maintain a website, but don't have coding skills.
Both products are 'software as a service' ('SaaS') tools — this means that you pay a monthly or annual fee to use them, but everything you need to build and maintain your site is provided for this.
As part of your subscription, you get
a domain (i.e., yourwebsitename.com)
templates
a content management system
hosting
e-commerce features (depending on plan).
Squarespace was founded first, in 2004 — but Wix, founded in 2006, has a larger userbase. There are around 4.6 million live websites on the web created with Wix, to Squarespace's 2.6 million (source: Builtwith.com).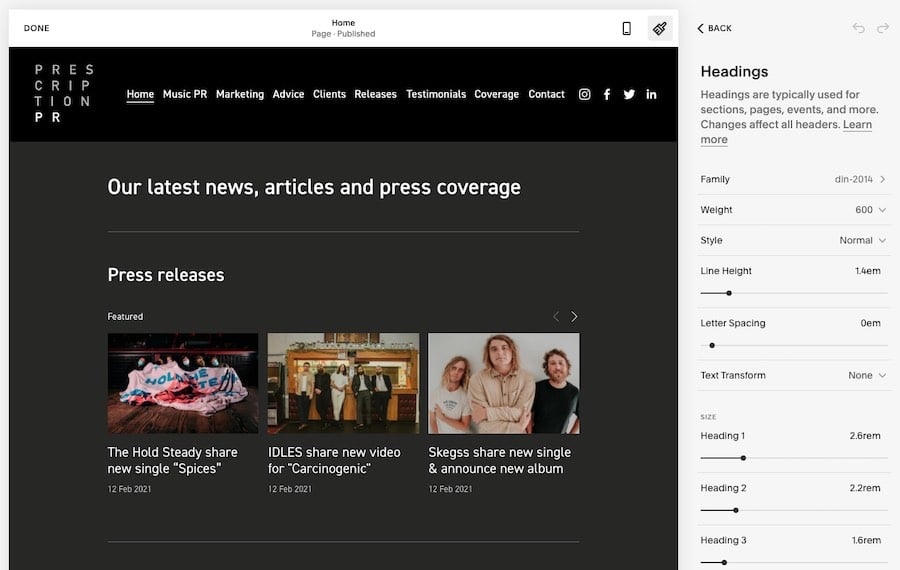 Additionally, Wix is the larger company of the two, with around 5,000 employees to Squarespace's 1,100 or so.
Wix's larger userbase and company size arguably means that it's technically a slightly safer bet as a platform to build your site on — i.e., Wix is a bit less likely to go out of business and take your site with it.
But given that Squarespace is a very well-established company with a large number of customers too, this shouldn't really influence your decision too much.
---
Pricing
Wix pricing
Wix plans and fees vary slightly by location — but are broadly similar.
In the US there are currently 9 Wix plans available. These are as follows:
Free — $0 per month

Combo — $14 per month

Unlimited — $18 per month

Pro — $23 per month

VIP — $39 per month

Business Basic — $23 per month

Business Unlimited — $27 per month

Business VIP — $49 per month

Enterprise — negotiable
Discounts for the paid plans are available if you pay upfront for a year or more's service, with the precise discount depending on the plan and the time period involved — the savings can be fairly considerable in some cases.
You also get a free domain voucher with all the Wix paid-for plans, which gives you a year's free domain registration.
The main thing to note about the Wix pricing structure is that the 'Business' and 'Enterprise' plans all facilitate e-commerce; the others don't.
The differences between the other plans generally involve how much file storage you get, the ability to host and sell video content from your site and access to premium support — the more you pay, the more you get of each.
Squarespace pricing
There are 4 monthly Squarespace plans available:
Personal — $16 per month

Business — $26 per month

Basic Commerce — $35 per month

Advanced Commerce — $54 per month
These plans work out considerably cheaper if you pay on an annual basis ($12, $18, $26 and $40 per month respectively). To help you decide on whether Squarespace is the right product for you, a two-week free trial is available.
The key differences between the Squarespace plans involve
access to e-commerce features
whether you can add custom CSS and scripts
integrations with third-party apps

the number of contributors to your site you can have
As you might expect, you get more functionality in the above areas as you go up the pricing ladder. You also avoid transaction fees if you're on one of the two 'commerce' plans — more on this later.
If you pay annually for your Squarespace plan, you'll get a free custom domain too — but you should note that not all domain extensions are catered for.
Key differences between Wix and Squarespace pricing
The most obvious difference between Squarespace and Wix in the pricing department is that Wix provides an entirely free plan, whereas Squarespace offers a time-limited free trial.
The Wix free plan provides a good way to try the platform out, but it is ad-supported, doesn't facilitate e-commerce and prevents you from connecting a domain to your website.
And unlike most of the premium Wix plans, it doesn't feature unlimited bandwidth, which will limit the number of people who can access your site.
If you need a website to accompany a birthday party, wedding, or garage sale, Wix's free plan is totally fine — however, due to lack of features, it's not really an option for professional users.
My other key observations on Wix vs Squarespace pricing would be as follows:
Wix offers a cheaper way access to e-commerce functionality than Squarespace: you can avail of this from $23 per month on Wix (via its 'Business Basic' plan). This comes in $3 per month cheaper than Squarespace's 'Website Business' plan, which costs $26 per month.

A key e-commerce feature, abandoned cart recovery, is available at a considerably lower price point in Wix. You can recover abandoned carts on the cheapest Wix e-commerce plan, which costs $23; Squarespace, by contrast, restricts this functionality to its most expensive plan — the $54 per month 'Commerce Advanced' offering.

Squarespace doesn't impose any limits on file storage; Wix does (the amount you get varies considerably by plan). 
Pricing, however, is not the only thing you should base a Squarespace vs Wix decision on. Let's compare and contrast some of the two products' key features, starting with templates.
---
Templates
Quantity and quality
In terms of quantity, Wix is a winner in a template shootout — it comes with over 800 templates to Squarepsace's 130 or so.
In terms of quality, however, there is something undeniably special about the design of Squarespace templates and I'd probably give them the edge over Wix's in the aesthetics department.
In short, with Squarespace's template offering, you're dealing with all killer, no filler; with Wix, there's arguably a fair amount of filler amongst the 800 templates on offer.
You can browse all the Squarespace templates here.
That said, there are plenty of very attractive templates available from Wix, and the sheer volume of themes on offer means that you shouldn't have a problem finding something professional that meets your needs.
Template design features
Video backgrounds
Both Wix and Squarespace templates facilitate the addition of video backgrounds.
It's worth noting however that if you want to add a video background to a Squarespace site, you'll have to upload it to Youtube or Vimeo first and provide Squarespace with the relevant URL. With Wix, you just upload your video file directly to the platform, which I feel is a better approach. 
Parallax scrolling
With the introduction of the latest version of Squarespace (7.1), support for parallax scrolling — a visually appealing effect where the site background moves at a different pace to the foreground — has been removed. So, if you're a huge fan of this particular design feature, you may be better off with Wix.
(Workarounds to add parallax scrolling to Squarespace do exist however — via the addition of custom code.)
Stock photography
Both Squarespace and Wix get a thumbs-up for integrating stock photography libraries into proceedings — you can browse a selection of free images and insert them into your website, or you can purchase stock photography (via Shutterstock on Wix, Getty on Squarespace) in the back end of both platforms. The stock images cost less on Wix, however ($2.99 per image to Squarespace's $10).
Typefaces
Squarespace currently offers a greater selection of typefaces — you can currently choose from over 600 Google and 1000 Typekit fonts. Wix restricts your choice in this area to 100 or so typefaces.
(That said, Wix makes it easier to install custom fonts on your website.)
Behaviour of templates on mobile devices
When it comes to how Wix and Squarespace perform on mobile devices, Squarespace is, in general, the winner.
This is because Wix sites use something called 'absolute positioning' to display content, whereas Squarespace sites are fully 'responsive.'
Responsive design means that your site design will automatically adjust so that it displays nicely on any device it's being viewed on.
There are two main benefits to responsive design over absolute positioning.
First, it means less work for you. Wix's use of absolute positioning means that you have to create two versions of your website — one for desktop, and another for mobile.
To be fair, Wix does a reasonably good job of generating a decent mobile version from your desktop content automatically, but I've found that some tweaking of it is nearly always necessary.
The second benefit of responsive design involves SEO — Google recommends it for mobile website design, and can give responsive sites preferential treatment in search results.
There is one area however where I feel Wix outperforms Squarespace on the mobile site front: flexibility.
With the introduction of the latest version of Squarespace, you can't tweak any aspect of your Squarespace mobile site using the Squarespace editor — you have to resort to custom coding to do this.
With Wix, however, you do get a lot of control of how your site appears on different devices.
Overall, Squarespace definitely comes out on top when it comes to mobile-friendliness, but it would be good if it offered more a bit more flexibility over the appearance of users' sites on mobile.
Wix 'Editor X' — a way to build responsive websites using Wix?
Although the standard version of Wix doesn't let you create responsive websites, the company recently released a BETA version of a new edition of their platform called 'Editor X.', which does.
Editor X is currently aimed at agencies and developers, but hopefully some of the mobile-friendly functionality it provides will make its way into the other versions of Wix soon.
Accessing CSS and HTML
Neither Wix or Squarespace give you full access to CSS or HTML — the code needed to customize your site in more bespoke ways — but Squarespace is a little bit more flexible in the CSS department.
Although Squarespace doesn't let you edit the full CSS stylesheet, you can add your own lines of CSS to your site. This allows you to make visual changes that are not possible using Squarespace's standard controls.
Both products allow you to insert code blocks containing HTML. This is useful for adding widgets or code from other apps to your site, but neither of them gives you full access to the HTML of your website.
Switching templates
Somewhat remarkably, neither Wix or Squarespace allow you to switch to another template after you've installed one on your site. This contrasts negatively with platforms like Shopify or WordPress, which make it relatively easy to do so. 
However, because all Squarespace templates behave the same way, the lack of template switching functionality is a bit less of a problem than it is in Wix — in Squarespace, you can change colors and fonts manually to replicate another template's look.
Whilst not ideal, this does at least mean that you don't have to rebuild an entire project if you want to change template.
Let's turn now to the content management systems of both Wix and Squarespace — to see how they perform, and find out how easy each platform is to use.

---
Content management and ease-of-use
Importing and exporting content
Squarespace is reasonably good when it comes to importing content — allowing you to import text content from WordPress, Blogger and Tumbler.
When it comes to products, Squarespace provides 'wizards' to bring data across from Shopify, Etsy and Big Cartel, or alternatively, you can import products via CSV.
Exporting products is also straightforward enough in Squarespace, although digital goods can't be exported. You are also limited to exporting up to 10,000 products. Perhaps the biggest consideration regarding Squarespace and product exports is that you can only export up to 3 variants of each product.
You can export certain content from your Squarespace site into an .xml file (this is helpful should you ever decide to migrate to WordPress). Key content like blog posts and static pages will export, but not all other elements will.
When it comes to Wix, the import/export options available depend on which version of the interface you're using. 
In terms of imports,
Wix ADI doesn't support content importing at all

Wix Editor allows you to import blog posts (WordPress format only) and products

Velo allows you to import pages, products and blog posts (but note that you may need development skills to do so).
As for exports, Wix ADI and Wix Editor both allow you to export products, with a 5,000 product limit applying. Velo allows you to export pages and other data too.
However, you should bear in mind that the versions of Wix that most people use — Wix ADI and Wix Editor — aren't great when it comes to exporting static pages and blog posts.
A way to save money on Squarespace
If you're interested in using Squarespace, the company is currently offering 10% off its plans. This can amount to quite a saving, especially if you opt for one of its 'commerce' plans.
This discount is available for a limited time only – to avail of it,
Go to the Squarespace website using this link.
Enter the code STYLEFACTORY10 when purchasing a plan.
Ease of use
When comparing the ease-of-use of Squarespace and Wix, you have to bear in mind that there are actually quite a few different versions of the platforms to compare.
Squarespace technically comes in two flavours — Squarespace 7.0 and 7.1.
Both are quite similar, but Squarespace 7.1 is the default, and the version that the company plan to develop on an ongoing basis (accordingly, it's the version we're basing this article on).
There are three versions of Wix to choose from.
Wix Artificial Design Intelligence (ADI)

Wix Editor

'Velo by Wix'

(formerly 'Corvid' for Wix)
Unlike the different versions of Squarespace, the differences between these versions are significant.
Wix ADI is definitely the most beginner friendly. It populates your website automatically — and supposedly using artificial intelligence — by asking you some basic questions and collecting whatever information is available from an online search of your business.
You can then make simple changes to the content and layout that Wix comes up with (see below video for a brief overview of how all this works).
Wix Editor requires some basic computing skills: working with it is roughly equivalent in complexity to using Microsoft Word to lay out a newsletter. This version of Wix gives you far more flexibility to alter your site layout than ADI, however.
Velo by Wix (formerly known as 'Corvid for Wix') is aimed at developers. It allows you to create lots of web pages automatically using a template populated with data from a spreadsheet. It also allows you to add javascript, Application Program Interfaces (APIs), and custom page behaviours. 
How easy Wix is to use depends rather a lot on which version of it you're using.
Wix ADI vs Squarespace
Of the above three versions of Wix, ADI is the easiest to use. A simple 'wizard' system is provided to set up your site, and then it's just a case of pointing at bits of content that you want to tweak and then clicking an 'edit' button to change them. You can insert different types of 'sections' (team photos, testimonials, galleries, text, careers etc.) into a page and move them up or down it as appropriate. 
Basic design tweaks are facilitated too — again, it's just a case of pointing at a piece of content you want to change and then clicking a 'design' button to edit its appearance.
In terms of how Wix ADI stacks up against Squarespace in the user-friendliness stakes, it's actually quite similar in some respects, in that you are dealing with simple, editable blocks that you can move around the page.
Importantly, I found that the mobile version of your site that Wix ADI creates doesn't need much (if any) tweaking. 
Functionality in Wix ADI is rather limited however, which may nudge potential Wix users more in the direction of Wix Editor (or Velo, which uses the same visual builder as Wix Editor).
Wix Editor vs Squarespace
At the heart of content editing in both Wix Editor and Squarespace is a 'drag-and-drop' interface that lets you move content around pages as you see fit.
Neither of these drag-and-drop editors are particularly hard to use — and which you prefer may boil down to personal preference — but my view is that Squarespace's works considerably better than Wix Editor's.
As discussed above, Wix Editor makes use of an 'absolute positioning' approach to site layout, meaning that you can drop or move content anywhere on the page.
Whilst this makes Wix more flexible, it also makes things rather fiddly; and perhaps more importantly, it increases the scope for design errors, where text and images get misaligned with each other.
The other thing to remember about Wix Editor's use of absolute positioning is that it means you are creating two sites: one for desktop, one for mobile.
Although a lot of the time, the mobile version of your site that Wix Editor generates automatically for you is very good, the result is not always perfect and you may find yourself having to design — or at least check — two versions of your site. 
By contrast, Squarespace's page editor makes it very straightforward to align content items neatly to each other; and its fully responsive approach to template design means you don't have to worry about creating separate versions of your site for mobile and desktop devices.
And in general, the Squarespace interface is cleaner and more contemporary in nature too. 
So overall, when it comes to content editing, I find that the better option — by some margin — is Squarespace.
CMS features
Text and headings
Wix is a bit more flexible on the headings front — you can make use of up to to 6 levels (i.e., H1-H6); Squarespace only provides 4 levels (H1-H4). That said, the latter should be fine for the vast majority of users.
Both platforms let you define three paragraph styles.
Images and galleries
Uploading and manipulating images in both Squarespace and Wix is straightforward.
Wix scores more highly in terms of where you can source your images from — you can connect the platform to a wide range of social media accounts and import content directly from them.
The editing functionality is a bit more extensive too — you can apply a wider range of filters to your images and use an 'auto cut out' feature to remove backgrounds from pictures (this can be useful for headshots).
Squarespace is better when it comes to optimizing images for use across multiple devices however, allowing you to set a 'focal point' for your pictures (see screengrab below). This ensures that the most important part of your image is foregrounded whenever your image is automatically cropped for viewing on smaller screens.
In terms of galleries, both Wix and Squarespace provide you with a good range of options on that front, including carousel, grid and masonry formats amongst others. Wix provides a wider range of gallery formats, however.
Download our free e-commerce e-kit
For a limited time, we're offering our readers some excellent free tools. Sign up free to immediately receive:
our online store comparison chart
a downloadable cheatsheet on how to create an online store
our SEO, blogging and 'how to start a business' cheatsheets
extended free trials and discount codes for essential business apps
our latest tips on e-commerce and growing a business
View privacy notice.
Blogging
Blogging is crucial to traffic generation — and both Squarespace and Wix provide built-in blogging tools.
Whilst neither Squarespace or Wix's blogging features are going to outshine those of WordPress any time soon, they're not bad. Unlike some competing website builders, they both facilitate multiple authors, provide RSS feeds and allow you to make use of categories and tags.
The main problem with Squarespace's blogging tool is that it doesn't feature any autosave or revision history features. This can be extremely annoying if you're in the middle of writing a blog post and your computer crashes. (A way around this is to write your posts in Google Docs and copy and paste them into Squarespace).
By contrast, Wix does provide these autosave features.
Managing media
When it comes to managing files and images that you've uploaded to your website, Wix outshines Squarespace a bit.
Although both platforms now feature a media library — a repository for any content you've uploaded to the site — Wix lets you organize content into folders, and allows you to edit it more easily.
Wix is more flexible too in terms of the types of media you can upload — you can host video on Wix, which is not the case on Squarespace (if you want to show videos on Squarespace, you'll need to use a service like Youtube or Vimeo to do so).
Autosave and content versioning
A key area where Wix outperforms Squarespace involves autosave. Wix periodically saves your site content automatically and gives you access to old versions of your site. These can be restored if necessary.
As mentioned above, this functionality includes blog posts — possibly the most useful application of it.
So if version history is important to you, it's a clear win for Wix.
Storage
One thing to watch out for in the Squarespace vs Wix decision is storage — Wix limits it. The exact limits depend on the Wix plan you're on, with — as you might expect — the more expensive Wix plans being more generous in this regard. 
By contrast, Squarespace provides unlimited storage space.
Adding widgets and scripts
Both Squarespace and Wix allow you to add HTML blocks to your site — this allows you to add your own scripts and third-party widgets to your site. 
Note however that if you want to inject code on every page of your site (for example, to install Google Tag Manager on it), this is only possible in Squarespace if you are on its 'Business' plan or higher.
Mobile apps
Both Squarespace and Wix provide Android and iOS apps to help you manage your store on the go — giving you, in effect, a mobile content management system.
Wix arguably has an advantage over Squarespace in this department, because there's just one app to worry about: the 'Wix Owner' app.
This lets you manage content, bookings, e-commerce orders and design, and view analytics. You can also chat with potential customers and deal with business enquiries.
With Squarespace, there are 4 separate mobile apps:
'Squarespace'
'Commerce'
'Scheduling Admin'
'Scheduling Client'
The 'Squarespace' app lets you edit content, view analytics and manage store inventory and orders.
The 'Commerce' app, as its name suggests, gives you more control over Squarespace e-commerce features. You can use it to scan shipping labels, fulfil orders, manage inventory, and contact customers using your mobile device.
And the Squarespace scheduling apps are designed to let you manage appointments that your clients have booked through your Squarespace site ('Scheduling Admin') — or let your clients book and manage ones with you ('Scheduling Client').
The 'Scheduling' apps let you manage appointments with your clients ('Scheduling Admin') or allow your clients to book and manage ones with you ('Scheduling Client').
---
E-commerce features
So how do Squarespace and Wix stack up in the e-commerce department?
Well, in order to sell online using either of these products, you need to be on one of their more expensive plans — on Squarespace, that means opting for the $26 per month 'Business' plan or higher, and on Wix, the $23 per month 'Business Basic' plan or higher.
Let's drill down into the fees and functionality of both platforms.
Transaction fees
Unless you are on its more expensive 'Basic Commerce' or 'Advanced Commerce' plans, Squarespace applies a 3% transaction fee to sales (on top of any credit card processing fees).
If you go for one of these plans, then you only have to worry about the processing fee charged by either Stripe or Paypal (the two main payment gateway options available to you in Squarespace). These vary by territory.
Wix won't charge you a transaction fee on any of its plans, which is good news — you just have to pay the credit card processing fees. These will depend on the payment gateway you choose to use with Wix — with the default option, Wix Payments, you're looking at a 2.9% + 30c fee per transaction in the US (but cheaper rates are available for some other territories).
Note that Wix Payments is not yet available in all countries — depending on where you're located, you may have to use a third-party payment gateway to accept credit cards.
And speaking of which…
Payment gateways
The range of payment gateways — software used to process credit card transactions — is wider in Wix. You can use around 50 different payment processing providers with Wix, but only 4 with Squarespace — Stripe, Paypal, AfterPay and Square.
So Wix gives you more flexibility around credit card rates, and where you can process credit card payments from.
Oddly though, neither Wix or Squarespace let you use Google Pay as a payment processor. You'll need to use another platform to do that, like Shopify.
Sales channels
Both Wix and Squarespace allow you to make use of key third-party sales channels — i.e., use your site to sell goods on sites like Facebook, Instagram and Amazon. Wix offers slightly more choice in this area, thanks to an integration with Ebay (via the installation of an app).
Types of goods you can sell
Wix and Squarespace allow you to sell both physical and digital products (e-books, albums etc.). However, Squarespace goes one better and allows you to sell services and subscriptions (i.e., involving recurring payments) too. 
There are workarounds for selling services and subscriptions in Wix, however, using forms and/or a third-party app (I discuss apps in more depth below).
Both platforms allow you to create members areas which your site visitors can pay extra to access — in Wix, it's a case of buying a 'Pricing Plans' app; with Squarespace, you need to pay for its 'members area' add-on.
Wix is better for selling video content, however — its 'video hours' feature lets you sell or rent video content to your site visitors easily; this is something that you can't really do with Squarespace.
Number of products you can sell
Both Squarespace and Wix allow you to sell an unlimited number of products.
Product options and variants
Squarespace and Wix are both generous when it comes to product options and variants — and oddly, more so than some leading dedicated e-commerce solutions, notably Shopify.
Wix allows you to create up to 6 product options (size, color etc.) and permits you to display 1,000 variants of these (i.e., combinations of them — size 12 in blue, size 11 in red etc.).
I can't find an upper limit listed anywhere for Squarespace's product options, but during my own testing, I created over 10. In terms of variants, 100 are permitted in Squarespace. 
Point of sale functionality
Point-of-sale or 'POS' functionality, which allows you to sell goods in a physical location (retail outlet, market stall etc.) and sync your goods inventory with your online store, is available in both Wix and Squarespace.
Squarespace facilitates this using the Square platform and card readers linked to mobile devices.
Wix is more flexible here — three POS options are available. You can use
its own new built-in POS system
Square
SumUp
As things stand, Squarespace merchants who wish to use POS can only do so if they're based in the United States. Wix by contrast lets you use POS in a much wider range of locations, including the UK, Japan, Australia and many European countries. (Note however that the new Wix 'built-in' POS option is restricted to US users for now).
Of the two platforms under discussion then, Wix currently has the edge when it comes to POS.
Dropshipping in Wix and Squarespace
Dropshipping is a fulfillment method where you don't keep what you're selling in stock — instead, you take the order, pass it to a supplier, and they send the goods to the client (your store is, in effect, a middle man). It's an attractive way to start a business, because you don't have to pay upfront for any stock. 
Whilst dropshipping options in Squarespace and Wix don't yet rival what's available from Shopify, both platforms have recently added some features that do let you sell goods using this method of fulfilment.
In the case of Wix, you can add the Modalyst app to facilitate dropshipping; in Squarespace, you can use Spocket and Printful.
One thing watching out for with Wix is that the number of products you can dropship is limited by the type of plan you're on — you can only dropship on a 'Business Unlimited' plan or higher, and only the 'Business VIP' or 'Enterprise' plans let you sell more than 250 products via dropshipping.
Abandoned cart savers
Both Wix and Squarespace provide abandoned cart functionality. This feature allows you to send a reminder email to visitors to your site who start a purchase but don't complete their transaction. 
Wix's abandoned cart saver feature is a little bit better than Squarespace's, because it allows you to customize your reminder email a bit more, and select the time that you'd like to send it — Squarespace, by contrast, only permits sending the email 24 hours after the cart was abandoned.
What's more, you can also program a second reminder email in Wix.
Perhaps most significantly, Wix provides access to its abandoned cart emails at a much cheaper price point — you can avail of it on any of its $23+ e-commerce plans. With Squarespace, you have to be on the most expensive $54 'Advanced Commerce' plan to access this feature.
Selling in multiple currencies using Wix and Squarespace
You tend to get more sales if you sell in the currency used by your website visitors.
So, if you're selling in multiple countries, it's good to be able to let your potential customers choose their own currency (or, better yet, to present your products in your site visitors' currency automatically).
Wix goes some of the way towards facilitating multi-currency selling, in that it provides an option to presents prices in local currencies; but it doesn't allow users to check out in their own currency.
When it comes to Squarespace, some developers offer custom coding services to show prices in multiple currencies; but these can be expensive or template-specific.
Ultimately, if multi-currency selling is important to you, you're better off looking at a product like BigCommerce or Shopify, both of which handle it much better (BigCommerce especially so).
Automatic tax calculations
One of the challenges of selling online is that you can end up making sales in a variety of jurisdictions with different tax rates — and this is something that you have to reflect in the pricing of your products.
This issue is particularly relevant for merchants based in the US, Canada and the EU, where different regions apply different tax rules.
Both Wix and Squarespace fall down a bit here.
With Wix, you can calculate tax rates automatically (using the Avalara app), but fairly ungenerous limits are placed on the number of transactions per month you can do this for; even the higher end 'Business VIP' plan only facilitates 500 tax calculations per month. You can however, use Avalara in a wide range of countries, which is helpful.
Squarespace's automatic tax calculation feature is provided by Taxjar. It's currently in BETA mode and can currently only be used in the US.
So which is better for e-commerce, Squarespace or Wix?
I'd probably give Wix the win when it comes to e-commerce, because
there are no transaction fees to worry about at all
it provides a wider range of payment gateways than Squarespace
an app for displaying prices in multiple currencies is available
its automatic tax calculation features are more developed
abandoned cart functionality is available considerably cheaper with Wix, and it's a bit better too.
If selling memberships, services or subscriptions is important to your business however, then the more straightforward option is probably Squarespace.
A way to save money on Squarespace
If you're interested in using Squarespace, the company is currently offering 10% off its plans. This can amount to quite a saving, especially if you opt for one of its 'commerce' plans.
This discount is available for a limited time only – to avail of it,
Go to the Squarespace website using this link.
Enter the code STYLEFACTORY10 when purchasing a plan.
---
Integrations and add-ons
If you want to add functionality to a Squarespace or Wix website, you'll be pleased to learn that both platforms integrate with a range of other third-party services.
This works in a couple of ways in Squarespace.
First, a few integrations are provided 'out of the box' — these cater for big hitters like Mailchimp, OpenTable or Amazon. You have to be on a 'Business' or higher plan to avail of these, however.
Second, there is a small but growing library of 'Squarespace extensions' — paid-for apps that add functionality to your website.
For any integrations not available out of the box or via an extension in Squarespace, you'll need to resort to Zapier — a sync tool that allows you to create 'zaps' that let apps share data with each other.
Whilst this usually involves a monthly fee, and a bit of configuration, it ultimately means that you can make Squarespace work in various ways with a very wide range of third party tools.
Finally, another way to add functionality to a Squarespace site is to make use of Squarespace plugins — simple code snippets that you add to a Squarespace site to make it behave in ways that are not usually possible out of the box.
With Wix, you make use of an app store — the Wix 'App Market' — to add functionality or integrate third-party services. While the Wix app store contains a decent number of add-ons (300 or so are available), there are some noticeable omissions in the integrations on offer — there's no official integration for OpenTable, for example.
Another way to integrate services, of course, is to use a HTML block and copy and paste code from third-party services into it. Both Wix and Squarespace let you do this.
A way to save money on Squarespace
If you're interested in using Squarespace, the company is currently offering 10% off its plans. This can amount to quite a saving, especially if you opt for one of its 'commerce' plans.
This discount is available for a limited time only – to avail of it,
Go to the Squarespace website using this link.
Enter the code STYLEFACTORY10 when purchasing a plan.
---
Forms and data capture
Forms
Both Squarespace and Wix allow you to create basic data capture forms pretty easily.
In Squarespace, you can choose to create either a 'form block' or a 'newsletter' block. The first option allows you to design your own forms from scratch (these contain your own choice of fields), whereas the second, as its name suggests, is a simple affair that captures name and email address only.
In Wix, you get more options when it comes to forms. The free Wix forms app gives you quite a few different types of forms to choose from, including contact forms, job application forms and subscriptions — and quite a few templates too, meaning you have more flexibility over form design than in Squarespace (in Squarespace, you can't vary form design much, unless you want to add your own CSS to your site and style them yourself).
Wix also allows you to install a variety of different form apps which provide more functionality. POWR's popular 'Form Builder' app, for example, provides you with the option to use conditional logic, customize autoresponder emails, add file attachments and more.
(You will have to pay to access this functionality, however.)
To gain this sort of functionality in Squarespace, you can use a third-party form builder app like Jotform or Wufoo, and install it using a HTML block (again, this involves an additional fee).
There's not a huge amount in it but overall, I'd say that the winner when it comes to forms is Wix.
Data capture
Once you've created a form in Squarespace or Wix, you'll need to choose where to send the data it captures to. 
In Squarespace, you can send your data to:
Squarespace Email Campaigns (Squarespace's built-in email marketing tool – more on this in a moment)
Google Sheets
Mailchimp
an email address
Zapier (allowing you to hook up your forms to a variety of email marketing tools, such as Getresponse or Aweber).
In the standard Wix forms app, you can send your form contents to:
an email address or

a spreadsheet which is viewable within the Wix interface.
If you want to hook your form up to Mailchimp you'll need to find an app in the Wix app store to let you to do this.
On the data capture side then, because you can send your form data to more places more easily, it's probably a win for Squarespace.
Email marketing in Wix and Squarespace
Wix and Squarespace differ from several competing website building tools in that they both provide built-in email marketing functionality — you can use both tools to create and send e-newsletters out of the box.
Wix is actually very generous in this regard, allowing you to send 3 e-newsletters a month to a maximum of 5,000 subscribers, entirely for free.
If you want to do more sophisticated email marketing with Wix, this means upgrading to its 'Ascend' tool. This lets you broadcast more emails per month and make use of a variety of automations — emails that are triggered in various ways by actions made by visitors on a Wix site (purchases, form completions, live chat etc.).
With Squarespace, you're dealing with its appropriately-named 'Squarespace Email Campaigns' feature. This is more expensive than Wix Ascend — prices range from $7 to $68 per month, but still pretty good value for people with large lists (as there's no cap on the number of subscribers you can add). And, as with the Squarespace website templates, the e-newsletter templates are superb.
Squarespace Email Campaigns is pretty basic when it comes to marketing automations however; only very simple autoresponder functionality is provided (you can send follow-up emails automatically when a user subscribes to your list, or buys something from your site).
And, unlike in Wix, you can't segment your email addresses into different groups, which makes it harder to tailor your newsletters to the most receptive audiences.
All this means that its ultimately it's a win for Wix in the email marketing department. if you are content with a simple and cost-effective way to send out occasional e-newsletters, then it's hard to argue with Wix's free, built-in email marketing tool; and some of the premium automations are genuinely useful, as demonstrated in the promotional video for Wix Ascend (below).
---
Search engine optimization (SEO)
No matter how attractive or functional your website is, it is usually pretty redundant if it doesn't appear highly in search results. 
So how do Squarespace and Wix stack up in the search engine optimization (SEO) department?
Well, both tools allow you to do the basics perfectly well, i.e.,
add headings
change page titles
edit page URLs
add meta descriptions
add alt text
create 301 redirects.
Additionally, both platforms allow you to display your blog posts in AMP format, which can speed up delivery in mobile search results (something that Google, with its 'mobile first' approach to indexing content, approves of).
Both products have some weaknesses in the SEO department however.
First, neither offers you any built-in, Yoast-style SEO tools that let you analyse how well your content is optimized.
And Squarespace makes it unnecessarily difficult to change alt text (the text used to describe images to search engines and screen readers) — it's doable, but a fairly convoluted process is involved.
Wix's main weakness involves how mobile versions of its site display — as discussed earlier in this comparison, Wix creates a separate version of your site for desktop and mobile, rather than using Google's preferred approach, responsive design.
Wix and Squarespace could both perform better when it comes to URL creation — Google likes URLs to be as 'clean' and as relevant as possible, but both platforms insert prefixes into your URLs in certain contexts (for example, with blog posts, Wix sticks '/posts/' into your URL and Squarespace inserts '/blog/' into it). It would be good to see more flexibility on this front.
Finally, neither platform currently performs brilliantly in Google's new 'Core Web Vitals' tests. These are a set of targets related to the speed, responsiveness and visual stability of a website; since June 2021 Google has been placing more of an emphasis on these, rewarding sites that hit these targets with slightly higher search rankings.
Of the two platforms under discussion here, when it comes to Core Web Vitals, research by Search Engine Journal seems to suggest that the better performing option is Squarespace.
It's important to remember that SEO is not entirely about the technical aspects of a website — using keyword research tools effectively, creating quality content and building links to your website are also hugely important.
But judged solely from a technical perspective, I think that the winner in an SEO shootout is currently Squarespace.
---
GDPR compliance
I am not a lawyer, so please note that the below observations should not be interpreted as legal advice. That said, I'm going to do my best to spell out some of the key GDPR issues facing Squarespace and Wix site owners below.
Business and website owners now have quite a few additional legal responsibilities as a result of the GDPR (General Data Protection Regulation) rules introduced by the EU in 2018.
The key things you'll need to do as a site owner are:
Display adequate privacy and cookie notices on your website

Process and store data securely

Get explicit consent from people signing up to mailing lists that it is okay to send them e-newsletters

Provide a means to opt in or revoke consent to use of non-essential cookies on a website (and to log that consent).
Now, meeting the first three requirements with either Squarespace or Wix is fairly straightforward.
Meeting the fourth requirement however can be quite tricky with Squarespace, though.
Basically, whenever you use non-essential cookies on your website — for example by adding a Facebook Ads pixel or a Google Analytics script to it — you are legally obliged to give EU visitors to your website the option prevent them being run.
With Wix, a built-in cookie consent banner lets you block cookies for quite a few popular marketing products before they are run. It could be better, but it will work for some users, depending on the cookies involved.
However, there is no equivalent 'out-of-the-box' way to facilitate this kind of GDPR cookie consent for third party scripts on Squarespace, meaning that many Squarespace users end up breaking the law as soon as they add a non-essential cookie to their website.
To get around this problem in Squarespace, you will need to add a third-party cookie banner tool to proceedings. There are quite a few of these available — we use a product called CookieYes when creating Squarespace sites for our clients.
The bottom line on GDPR is this: you can make a Wix or Squarespace site GDPR-compliant, but for Squarespace users, it will always involve additional work (and ongoing fees, if you're using a third party cookie banner solution).
Other platforms, like BigCommerce and Shopify, work much better from a GDPR point of view (BigCommerce provides a built-in cookie consent feature that meets GDPR requirements, and there are various apps available for Shopify which provide one).
---
Customer support
When it comes to customer support, you can contact Wix by phone or email. Squarespace lets you get in touch via live chat or email.
You generally have to search for a solution to your problem in the platforms' help material before you are given the option to contact the support team.
In terms of the quality of support provided, because we design Squarespace sites for clients, I've had a lot more experience of Squarespace's support team than Wix's. Squarespace support has varied from being brilliant (on issues relating to SSL) to pretty awful (on issues relating to Squarespace and GDPR).
If being able to speak to somebody is very important to you, then ultimately Wix has a slight edge over Squarespace in the customer support department. You also get the option to pay more for premium support, which some users will find helpful.
Finally, Wix support is available in more languages — 9 languages are catered for to Squarespace's 5.
---
Wix vs Squarespace: verdict
Overall, I'd say that in a Wix vs Squarespace shootout there is not an obvious winner — both products are fairly evenly matched. That said, there are aspects of Wix and Squarespace that will make them a better 'fit' for certain types of users and situations.
For me, Squarespace scores considerably higher than Wix in the user-friendliness stakes — I much prefer its interface to Wix's. And the fact that its templates are all fully responsive means it is easier to create mobile-friendly sites with (and is technically a better platform from an SEO point of view). The lack of responsive templates in Wix is for me, possibly the strongest reason I'd choose Squarespace over it.
Wix is the more flexible platform in many ways though — more templates are available and you can edit your website's design to the nth degree using its editor. Its e-commerce plans also offer more functionality than Squarespace's, and its free email marketing features are more generous.
In a nutshell, if I was hoping to build an elegant portfolio site, music site or small business site that worked great across all devices — especially one that didn't need any advanced e-commerce features — I'd use Squarespace without hesitation.
Wix is a good all rounder that does provide quite a lot of decent e-commerce features at a good price — but that said, if I was building an online store, I'd probably be more inclined to use a dedicated e-commerce tool like Shopify.
Below you'll find a summary of the pros and cons of each site builder — and why and when you might want to use each of these products over each other.
Reasons to use Wix over Squarespace
A totally free plan is available.
It's a bit cheaper to use, especially if you plan to pay monthly.
A wider range of templates is available.
Wix autosaves your content and makes it easier to restore older versions of your website content.
A searchable media manager is available for Wix; this is not the case in Squarespace.
The product variant limit is considerably higher in Wix — 300 to Squarespace's 100.
A key e-commerce feature, abandoned cart saving functionality, is available at a considerably lower price point in Wix ($23 to Squarespace's $54).
You can use a wider range of payment gateways with Wix.
Wix's offers generous free email marketing features, and its paid-for ones are more sophisticated than the Squarespace equivalents.
You can display prices in multiple currencies in Wix (but note that checkout in a local currency isn't possible).
Phone support is available for Wix.
You can try Wix for free here.
Reasons to use Squarespace over Wix
Squarespace templates are all fully responsive; Wix's templates are not.
The quality of templates is arguably higher in Squarespace than in Wix.
A wider range of typefaces is available in Squarespace.
You can import and export content in and out of Squarespace more easily.
You can add CSS to Squarespace sites, which means there are more customization options for your templates.
The Squarespace interface is more elegant than Wix's and its drag and drop editor considerably easier to use — Squarespace's learning curve is not steep.
You get unlimited file storage on all Squarespace plans.
It's easier to sell services and subscriptions in Squarespace.
You can sell an unlimited number of products on any e-commerce-enabled Squarespace plan — this is not the case with Wix.
The product option limit is higher in Squarespace.
Data captured with Squarespace forms can be sent to multiple storage options, including Mailchimp — Wix is more limiting in this regard unless you are happy to pay extra for a suitable forms app.
SEO functionality is slightly stronger in Squarespace than in Wix (chiefly because its templates are responsive).
You can try Squarespace for free here.
---
Alternatives to Wix and Squarespace
Wix and Squarespace are by no means the only options available to you when it comes to website builders.
If you're looking for something very cheap and cheerful to start a business with, then platforms like Jimdo, Weebly and Moonfruit are worth a look.
For e-commerce sites, we generally recommend Shopify or BigCommerce — these provide all the e-commerce features you'll find in Squarespace and Wix, and a lot more besides (including advanced point of sale features, more payment gateway options, currency conversion and more). Make sure you check out our Shopify review and our BigCommerce review for more details on these solutions. (You'll also find our Shopify video review below).
Shopify video review
Free Shopify trial | Full Shopify review
Amazon can of course also work as a very effective storefront — our Amazon vs Shopify post discusses this.
Finally, there's option of using WordPress — this generally requires more configuration to set up, but you can build any sort of website you like with the platform. Check out our Wix vs WordPress comparison for more details on how this stacks up against using Wix.
---
Related Wix vs Squarespace / website builder content
Check out our other content on Squarespace, Wix and other website builders below:
Full Wix review

Full Squarespace review

Squarespace pricing guide

Squarespace vs WordPress

Squarespace vs Shopify

Wix vs Shopify

Our Shopify video review on Youtube
Got any thoughts on Wix vs Squarespace? Leave a comment!
I hope you've found our Wix versus Squarespace comparison helpful — thank you for reading! Do leave a comment below if you have any queries about either platform — we read them all and we'll do our best to help.